November is here and it is the Pride month! The Supreme Court judgment last December might have dampened the spirit of both the members and the allies of the Queer community, the Pride March is set to show that the fight is still on. While the NALSA judgment showed us that struggle bears its sweet results in time, the Naz judgment showed us that the path may not always be straight (pun intended). On the 30th of November, the march will start from the crossing of Barakhamba Road-Tolstoy Marg and end at Jantar Mantar. While the DU semester-end exams will be crowding the calendar at that time, some lucky ones just might make it there (and we hope that we all do!). And even if you can't, then there are a lot of pre-Pride events that you can attend to show your support. And your support matters, because there's nothing "minuscule" about violation of Human Rights and sitting on the fence just won't do anymore.
This is the cumulative eventof the Pride month. And it goes without saying that we love it; the energy, the festivity, the colour. The politics of Queer visibility makes it extremely important in the fight towards equal Human Rights. They are also organising pre-Pride events to celebrate the Pride week and an event later in December to mark last year's infamous Supreme Court judgment on section 377.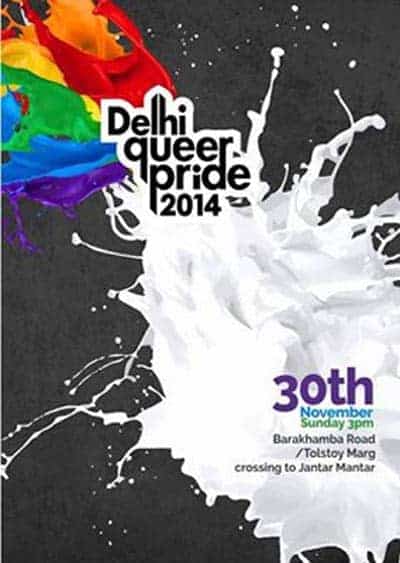 8th November: Fundraising Party.
15th November: Placard Making and Picnic.
30th November: Pride March.
11th December: Event on 377 and the legal process.

Fursat Se, the Shahpur Jat café that hosts a book club, art exhibitions, film screenings and slam poetry open mics by Bring Back The Poets amongst others is toasting to the Pride week by organising a weeklong celebration of all things Queer. And as the name suggests, it's going to be extremely queerious.
22nd November: Exhibition by Aditya Raj
23rd November: Film Screenings
28th November: Posters and placard making
29th November: EXTREMELY QUEERIOUS Poetry Slam + Open Mic.

Closer to the campus, the film society of Kirori Mal College is organising a two day Queer Film Festival. From complex questions of gender and sexuality to budding teenage romances to dying old loves, the four films cover a lot of ground. People in and around North Campus should drop in to give their exam-stressed heads something else to ponder on.
12th November: Laurence Anyways (10:30 AM), Show Me Love (2:30 PM)
13th November: Shortbus (11 AM), Happy Together (2 PM)
To understand how "mainstream" forms of masculinity work is to know how to subvert them to allow space for different forms of masculinity and other gender identities to survive and thrive. The Men and Boys for Gender Justice Film Festival which is going to be held at the School of Arts & Aesthetics, JNU, is an attempt at just that. The festival will be showcasing 71 films from 23 countries in media as diverse as documentaries, feature and short films, animations and public service advertisements. Check their event page to see the complete schedule.
If you know of other pre-Pride events that you think we should feature here, do let us know.