<![CDATA[
Oasis '14, BITS Pilani, turned out to be an exhilarating show for everyone when some great artists came down to the campus to give their best performances. This year, the fest saw entertainers like Benny Dayal, Raghu Dixit, Mysore Brothers, The East India Comedy and Sunburn, which helped the BITSians (as they like themselves to be called), the faculty and over 1400 outstation students to have a gala time. The fest was also studded with personalities like Dr. Kiran Bedi, as her session on 'India in your Hands' showed us the truth behind our country's corruption, politics and policies.
Day 1 – Benny Dayal and Mysore Brothers
Benny Dayal
The evening of 1st November 2014 at BITS Pilani welcomed Benny Dayal, the artist whose peppy numbers have always been able to make each and every one of us move our feet. The scenario seemed to be pretty much the same inside the BITS Pilani auditorium where the singer filled his audience with immense enthusiasm with songs like, "Batameez Dil", "Disco Deewane", "Bang – Bang" and "Locha-e-ulfat". Besides these, he also gave his voice to many old Bollywood and Punjabi songs, which included "Yamma Yamma", "Hayo Rabba" and many more. Once, during the show he also found a chance to jump down, amidst the audience, which got crowd even more excited. He ended the 100-minute performance by clicking a selfie with the crowd.
[caption id="attachment_27445" align="aligncenter" width="1024"]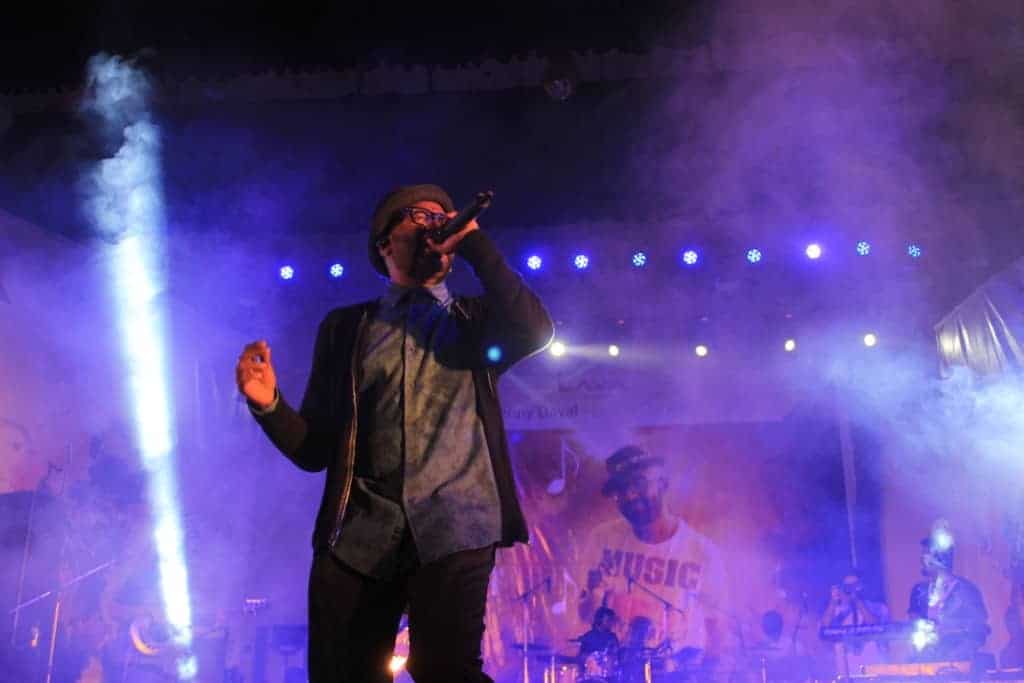 Benny Dayal Live at Oasis 2014 | Image Credits: Chirag Sharma[/caption]
Mysore Brothers
Under the name of their concert as the "Violin Duet", the Mysore Brothers, Dr. Mysore Manjunath and Mysore Nagaraj, performed stunningly in front of the audience. Their immaculate performance left the crowd in an enthralled state. The best part of their performance was the spontaneous selection of the raga depending upon their mood, the ambience and the audience. The concert was the first classical one to happen in BITS in six years organized by Ragamalika, the classical music and dance club of the college. Both percussionists given a free rein over what they want to play, they extracted every single sound possible from their instruments, the mridangam and the khanjira, leaving quite a few heads scratching. The violin maestros concluded wth 'Baro Krishnayya' and 'Raghupati Raghav Rajaram.'
[caption id="attachment_27452" align="aligncenter" width="720"]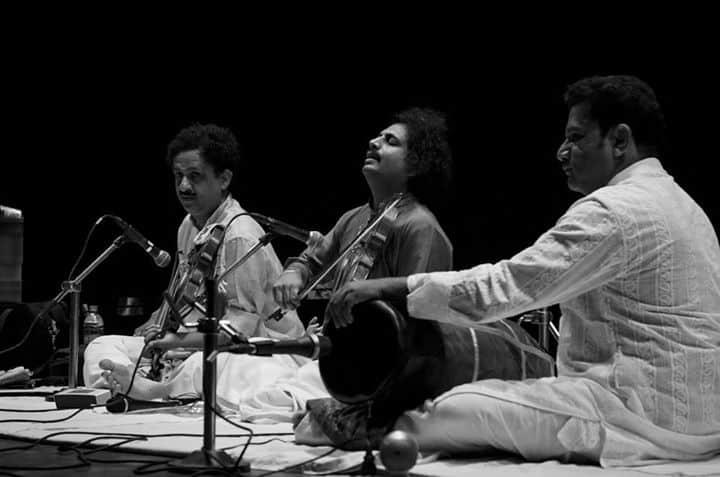 Mysore Brothers for the Violin Concert | Image by Department of Photography, BITS Pilani[/caption]
Day 2 – Raghu Dixit, Dr. Kiran Bedi and Banana Man
Raghu Dixit
November 2, 2014 at BITS Pilani was the day when the fusion king of India, Raghu Dixit, with ankle bells tied to his feet, guitar in his hands and his smiling crew, stepped on the stage to set it on fire. He shared, with the audience his memories of how he had visited the college back in 1996, without telling his parents and without the money to get back home because he was sure that he would win the Western Solo event, which unfortunately, he did not. He then participated in a dance competition where he stood first and got the money to get back home. With songs like, "Hey Bhagwan!", "No man will ever love you, like I do" and "Lokadakalaji", he managed to revive the audience's love for his kind of music. Apart from his performance, the crowd also appreciated his other band members who had their efforts devoted to guitar, drums and flute.
[caption id="attachment_27449" align="aligncenter" width="1024"]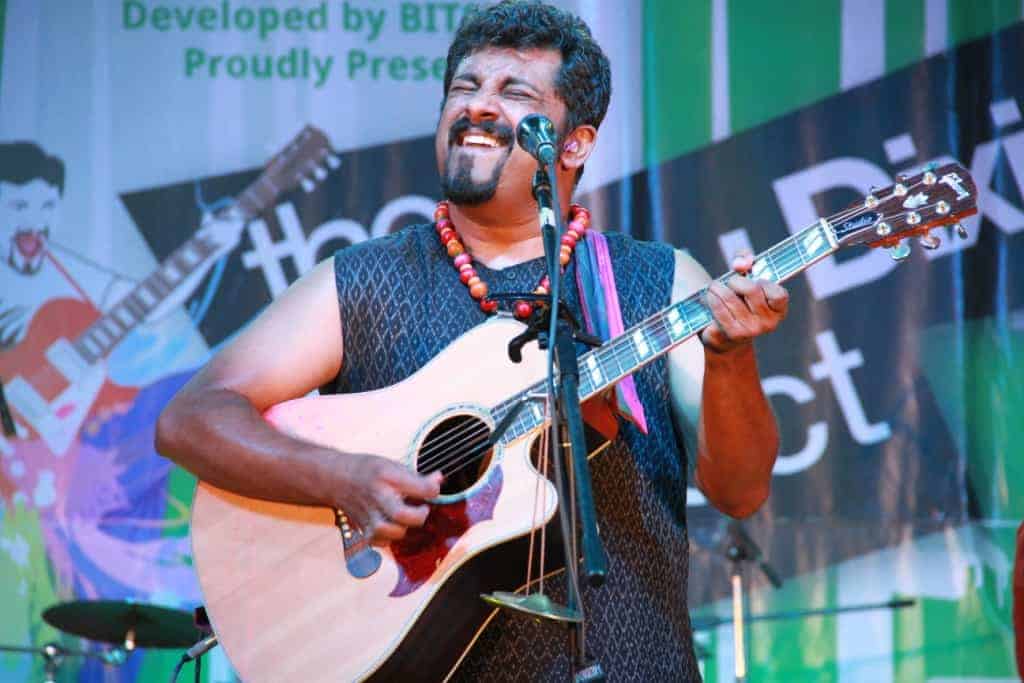 Raghu Dixit at Oasis for The Raghu Dixit Project | Image Credits: Kashish Madan[/caption]
Dr. Kiran Bedi
Apart from all the fun and frolic, there was also a learning session by Dr. Kiran Bedi, who preferred to come to BITS Pilani over a trip to Germany. The inspirational personality showed an interactive presentation based on the topic, 'India in your Hands'. Through her talk, she tried to make the youth aware of what is going on in their country and what can the youth do to contribute. She also talked of the Swachh Bharat Abhiyan and how the present government was genuinely working towards the goal of a 'Better India' but at the same time she also cleared that she was not there to support any political party. At the end of the session she also asked for questions from the audience and answered them all, no matter how controversial some of them were.
[caption id="attachment_27453" align="aligncenter" width="1024"]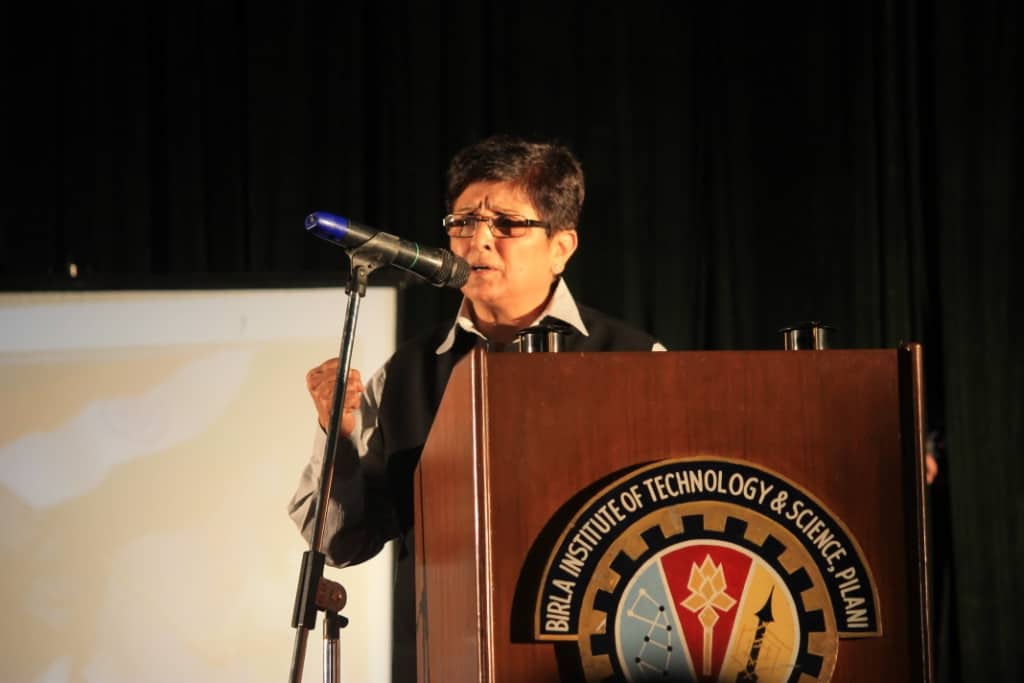 Dr, Kiran Bedi during her session on "India In Your Hands" | Image Crediits: Chirag Sharma[/caption]
Banana Man
Besides the popular and known faces, someone also made audience fall in love with him at the first sight. Pierrick St. Pierre a.k.a Mr. Banana was an unfamiliar face, which the students got to witness during this year's Oasis. Popularly known for his juggling and hat – tricks, the Banana Man managed to bind the audience with his witty jokes and occasional rants. The crowd seemed to enjoy the unusual comedy as much as his juggling act.
[caption id="attachment_27446" align="aligncenter" width="1024"]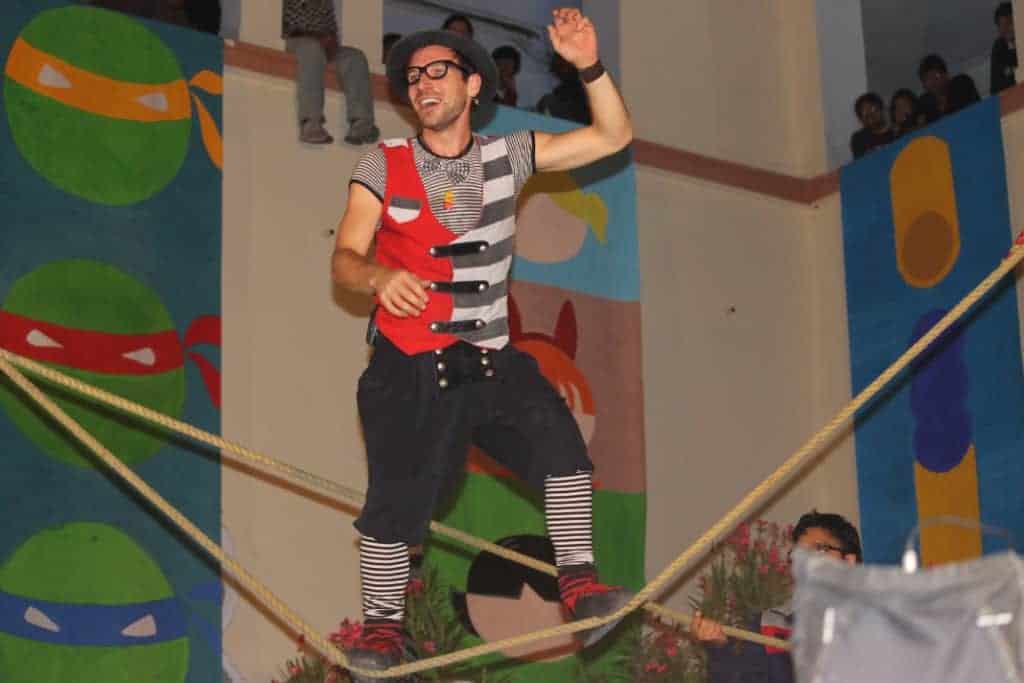 Banana Man performing his famous rope trick for the crowd at Oasis | Image Credits – Iresh Gupta[/caption]
Day 3 & 4– Sunburn Campus and East India Comedy
Sunburn Campus
On November 3, 2014 – Sunburn came down to BITS Pilani with the EDM Pro Night. Sunburn Campus gave all the inhouse BITSians and the outstation students the freedom to dance to the beats set by DJs Anish Sood, Lost Stories and Kash Trivedi. With security at its best, Sunburn at BITS Pilani attracted a huge crowd.
[gallery ids="27450,27447,27448"]
East India Comedy
Oasis had a lot to offer besides music. With their 'intended' puns and vulgar humour, comedians from the East India Comedy made the closing evening a hysterical one.  Sahil Shah, Sapan Verma and Sorabh Pant came on the stage one-by-one to entertain their audience.
[caption id="attachment_27451" align="aligncenter" width="1024"]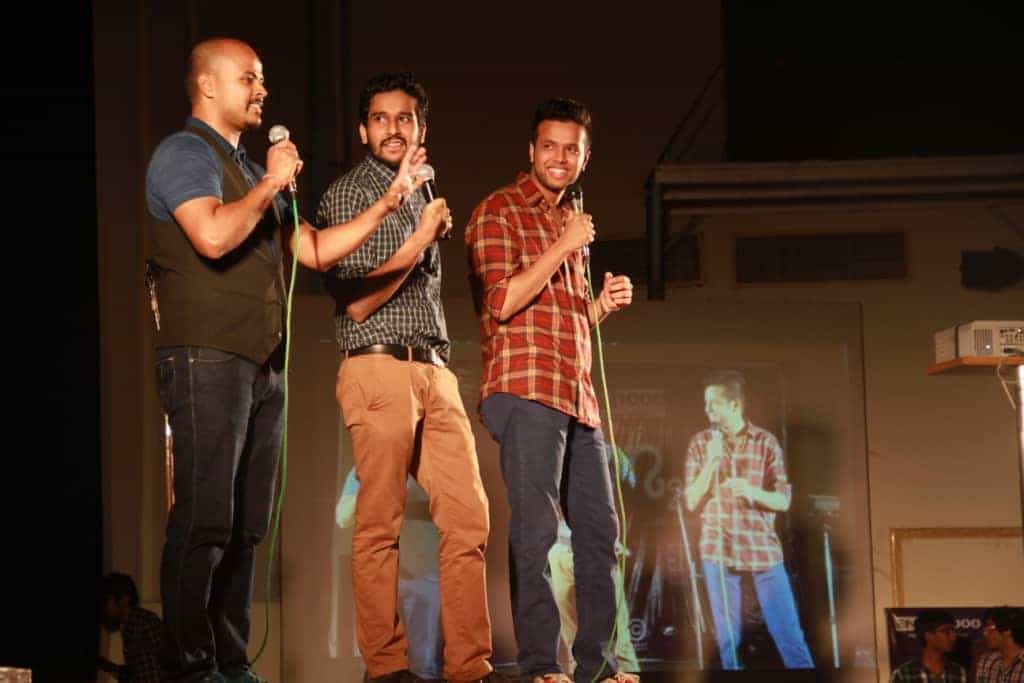 Saurabh Pant, Sahil Shah and Sapan Verma from East India Comedy performing at Oasis | Shutter Released by Kashish Madan[/caption]
While some of the students took time to realize what the joke was about, the others laughed until their stomach ached. They had their puns revolving different kind of people in India, politics and of course students.
Feature Image Courtesy: Iresh Gupta
]]>