Hans Raj College has always been known to produce sports persons who not only conquer national level championships but also prove themselves in the international world. Once again the college has managed to get itself into the limelight with one of its students, Abhishek Verma, who did his college and University proud by receiving honorary Arjuna Award for his performance in Asian Archery Championship where he won three gold medals.
Verma who works as the Income Tax Officer for the Indian Government, has also won World Archery Federation's Gold Target Award in 2013 and Rajiv Gandhi State Award in 2007. The 25 year old also participated in Asian Grand Prix tournament recently in 2014 and bagged one gold and two silver medals.
Abhishek, who started off with his journey as a student at Hans Raj College, went on to become the coach of the archery team of the college and succeeded in proving his mettle when he won one gold in the men's compound event and one silver medal individually at the recently concluded Asian games. In conversation with Shaurya Sahai, he spoke of archery, how his college contributed to getting him to the peak of success and his experience as a coach.
Shaurya: Hello Abhishek! First of all congratulations for gold and silver medal at the Asian Games. How does it feel to being back pride to your country?
Abhishek: Fetching two medals at the first games is a big achievement in fact the biggest of my life so far. I am really happy. This was really special for me and my teammates with whom I won a gold in the men's compound event.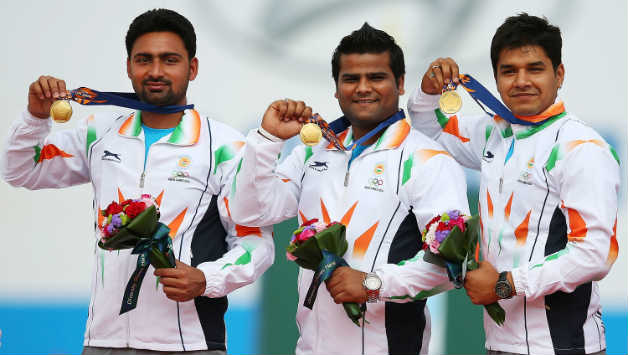 Shaurya: Would you like to tell us more about yourself?
Abhishek:  I am very simple boy. Archery is my passion. It is not only a game for me it is the way of living for me. When I am free my all time is spend with my family. My hobby apart from different forms of Archery is travelling.
Shaurya: How was your experience coaching the archery team of Hans Raj College?
Abhishek: I am feeling very proud because I was also a student of Hans Raj College and then I was a coach of my college team. It was an honour to coach, as my college team is Number 1 in Delhi University.
Shaurya: How has Hans Raj College contributed to getting you to this point in life?
Abhishek: College has contributed in a great way because college life is very different from school life and here I got a chance to represent my country in World University Games as well as World University Archery Championship. That was the first time I was selected for any games and it was awesome experience for me because when I came back, I felt that I got lots of experience and knowledge about archery, which was all because of Hans Raj.
Shaurya: So Abhishek, how does it feel to be an Arjuna award winner?
Abhishek: It is a huge honor for me to be an Arjuna awardee.
Shaurya: Abhishek, what is your take on sports in Delhi University as a whole?
Abhishek: I can only comment about Archery for which DU is great. I started my Archery career in Delhi University ground itself. Currently the ground is known as rugby ground of Delhi University after Common Wealth Games.
Shaurya: If not an archer, what else you think you could have been?
Abhishek:  Sorry, I do not know about that but if now I think about myself I can't think of anything but Archery.
Shaurya: Also, to whom do you credit your success the most?
Abhishek: All credit goes to my mom. She supported me at every level. She is my real inspiration.
Shaurya: Would you like to give a piece of advice to the aspiring archers in the University?
Abhishek: Yes, I want to tell only one thing – Go Hard or Go Home. When I am at the ground I am only thinking about archery. So all do need to practice well and concentrate. Before you sleep just think about yours faults in your game for that day and next day try to improve those faults.
Shaurya: Thank you Abhishek! DU Beat wishes you all the best for your future plans.