Delhi University Students' Union, or DUSU, has never been the garden variety of students' unions in the country. It has been the breeding ground for renowned national political leaders. The likes of Arun Jaitley, Ajay Maken and Vijay Goel have all hatched out of DUSU. It is also a great indicator of the national mood, as was evident in 2013 when ABVP nearly swept DUSU elections eight months before BJP swept the Lok Sabha elections.
The ways through which the various student bodies prepare for DUSU elections are as intriguing as the Union itself. Guidelines of the Lyngdoh Committee are going to feature heavily in this article, therefore, for the uninitiated: Lyngdoh Committee, headed by J.M.Lyngdoh, was set up by the Ministry of HRD to draw guidelines for elections of Students' Unions across the country. Its report was submitted in 2006 and the guidelines were notified to all universities.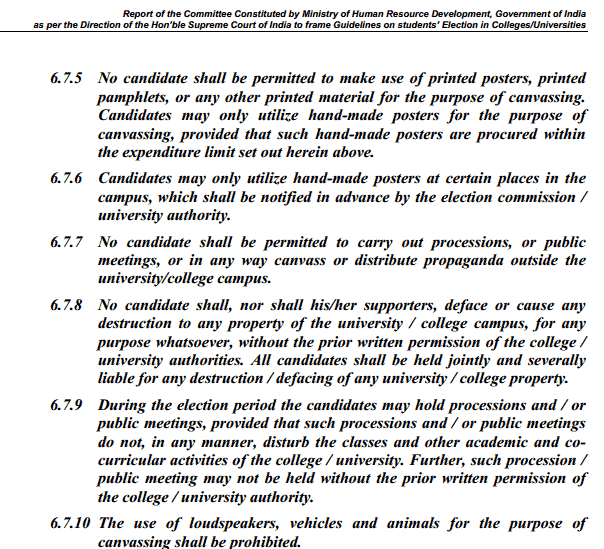 Top political parties begin hunting for possible candidates right after admissions cease. First years are the most preferred choice, which is so because Lyngdoh Committee's guidelines require 2nd and 3rd year students to have a minimum of 75% attendance in the previous year. The rule, however, is not applicable to first years. How much of an impact a first year would have in the capacity of a DUSU member is worth giving thought to.
After zeroing in on candidates comes the phase of campaigning. Not known to many is the guideline that limits the expenditure of a candidate on their campaign to Rs.5000. This rule is generally flouted by everyone. Most candidates believe the limit to be impractical considering the size of the University. On the other hand, rampant bribes in the form of movie tickets and food vouchers are an undeniable reality.
Lastly, candidates file their nominations for various posts. It is a regular practice for a political party to initially nominate multiple candidates for a single post. Additional candidatures are later withdrawn when the party is sure of its decisions and the eligibility of their primary candidates. This is the answer if you've ever wondered why parties declare candidates much later after the last date of nomination.