The Delhi University Inter College Football Tournament, hosted at the Delhi Police Polo Ground and SRCC Football field between 20th Feb – 5th March, culminated in fine fashion for Motilal Nehru College (MLNC) Evening as an impressive 2-1 victory over runners-up Zakir Hussain College (ZHC) saw the defending champs retain their top spot in Delhi University. The most anticipated football tournament amongst DU's footballing circles, the prestigious event this year included a total of 44 teams from all around Delhi University.
The match between the two finalists, started on a bright note as both teams approached the game with an attacking mind-set. MLNC's (E) offensive build-ups and high pressing game soon gave them a deserved lead early on in the 8th Minute by a Sumit Rawat strike. However, the boys from Zakir Hussain responded well as they were also constantly putting Motilal's defence under considerable pressure. Much to ZHC's dismay though, an 18th Minute equaliser by Nitesh Sharma was cancelled out by another goal from MLNC's side, this time coming from the feet of Abhay Rana. An enthusiastic start to the finals, by the half hour mark,the match seemed to be very much in the balance.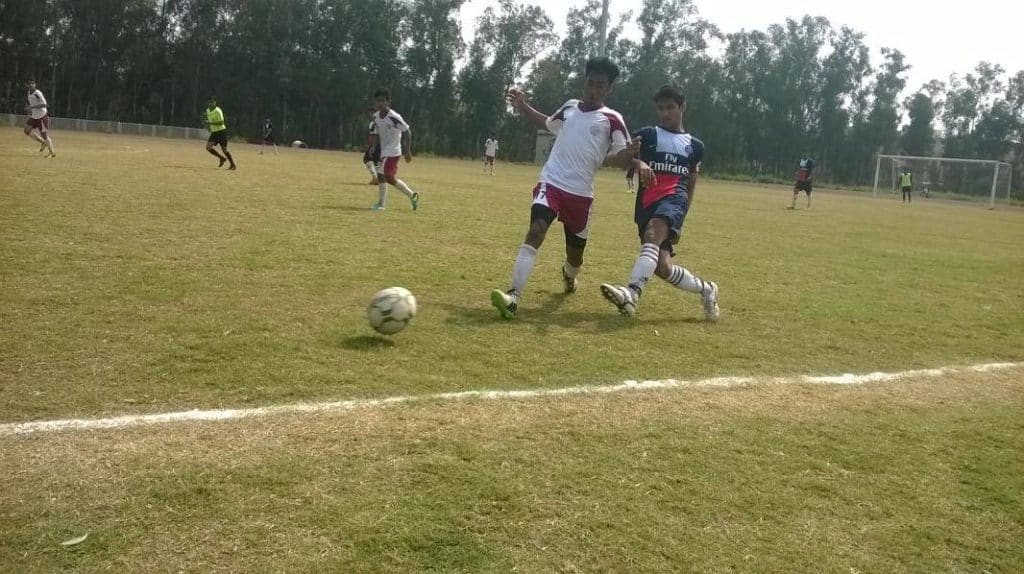 By the beginning of the second half, the frantic burst of the game had seemed to consciously be slowed down, as both defences looked vulnerable to say the least. While possession seemed to be almost equal in both halves, MLNC in general seemed to be more controlled and organised in their play. A lot of this though, is credited to their manager, Mr. Sanjay Anand, whose constant shouting and yelling from the side-lines made sure players retained their positions and stuck to their formation. The energy again seemed to rise towards the last 10 minutes or so, as Zakir Hussain pressed harder for the ball and were involved in several gruesome challenges. A goal looked almost certain from ZHC after a 90th minute red card to MLNC player, Arvind, which reduced the defending champs to 10 men. Time, however, was not on Zakir Hussain College's side as they lost the match 2-1.
This was also followed by another match. The two losing semi-finalists, Ram Lal Anand College and SRCC squared off in order to determine the third position. SRCC won the match by a comfortably cushioned victory.
Describing his feelings on successfully replicating their team success, Abhishek Rawat, Captain of Motilal Nehru College (E) said "I feel extremely overjoyed and proud at this point. We dedicate this win to all our supporters and the coach. Next year hopefully, we'll make it three in a row."