Presenting a relevant cause using music, the final day of Hindu College's Mecca 2014 began with a concert against racism. It saw performances by three bands of north-east Indian students.
The songs being mostly in their native languages, aimed to present the array of wide culture north-east India possesses. In an attempt to sensitize the youth towards the 'different' Indians and to highlight the gravity of racism they faced, Sh. Pradyot, the King of Tripura delivered an awakening speech towards the end of concert.
"We are more informed about the happenings of the world, than we are about those eight states of India. Hindi is just one language spoken in India, not the only language. We all need to make an attempt to understand and warmly receive the students who leave their hometowns and culture behind for better opportunities, only then we shall be able to see the rich cultural heritage of north east India and  its importance in Indian economy and socio political system." the King remarked.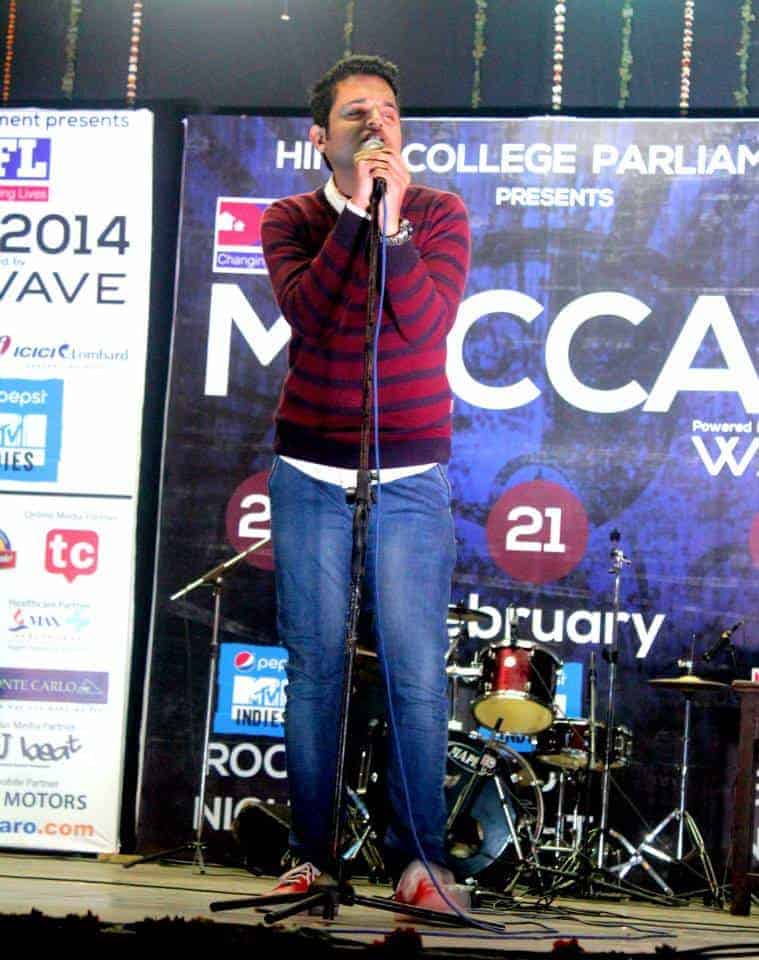 The musical mood continued as the finals of the singing hunt 'Mecca Idol' were scheduled for the next slot. Post the prelims, nine participants from colleges like Lady Shri Ram College for Women, Kirori Mal, Maitreyi, Shri Ram College of Commerce, Miranda House and IIT Delhi performed in to a packed  auditorium. The audience hummed along the Sufi tunes of songs like 'nit khaer manga', 'lagan lagi tumse..', 'tere liye..hum hai jiye' and 'Roza'.
The first prize was won by Sarim Ali from Deen Dayal Upadhyaya College whose song 'Teri Deewani' had taken the event to new heights. The competion ended with a  musical performance by Aria & Alankar – the music societies of Hindu College.
Featured Image:  Sh. Pradyot, the King of Tripura. Image Credit: Abhay Makhija for DU Beat