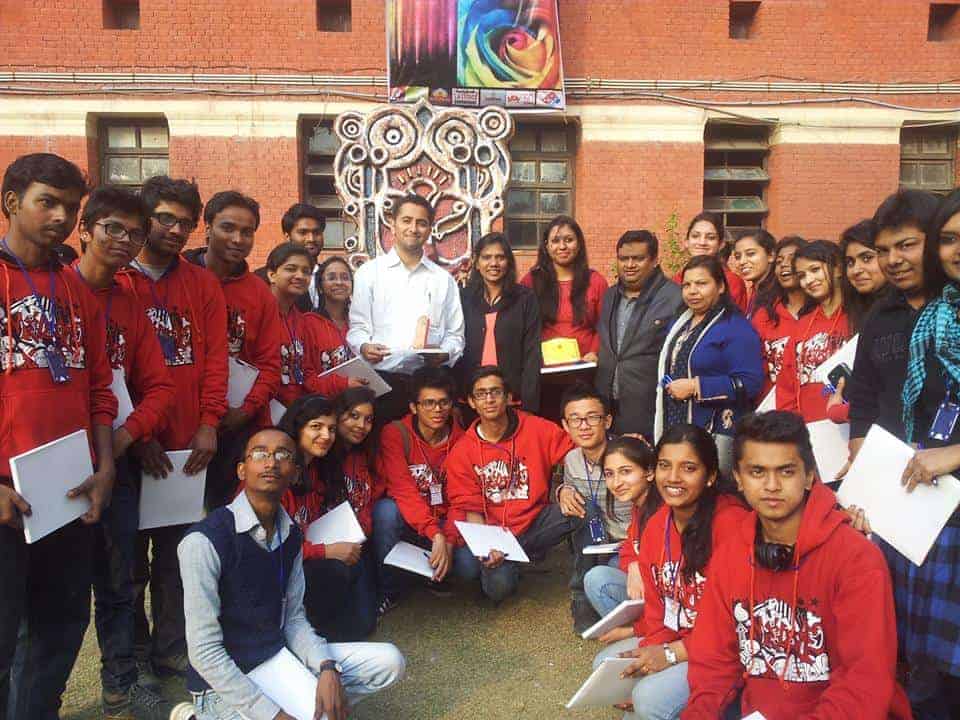 Ramjas College held its fine arts fest Expressoezz and art exhibition, Efflorescence, on 12th and 13 February, 2014, conducted by the Fine Arts Society of the college. The fest was a grand success and saw participation from all over the University with colleges like Gargi, Miranda House, LSR, Janki Devi Memorial, Sri Venkateshwara and Hindu etc. taking active part in the competitions.
Efflorescence, the art exhibition was much appreciated with its oil paintings, sketches, canvas, acrylic and posters made by the budding artists of the college.
The main attraction of the fest was a 7 feet tall Dhoom: 3 inspired mask made by Melange members, along with graffiti.
Various competitions were held in the two days and winners were given cash prizes, vouchers and mementos by the sponsors, Lions Club Delhi Veg and Victory Zeal. Following are the competitions and their respective winners:
Competition                                             Winners
Ignition: Poster Making                          1. Jayshree Bhagbati (Ramjas)
(Theme: Youth Power)                            2. Raju (DCAC)
Flourish the Perish                                  1. Prachi Saxena &
(Best out of Waste)                                     Anupreksha Jain (Shaheed
                                                                             Bhagat Singh College)
                                                                          2. Leepakshi, Apoorv &
                                                                               Anshu (JDM)
Naqaab                                                     Sonia and Karishma (JDM)
(Face Painting)
Street Hustler                                        Kishan (DCAC)
(Graffiti)
Apart from the competitions, there were also fun games adding to the spirit of the carnival-like fest such as Blind Date, Paper Dance, Tattoo Making, Snap Antakshaari and Treasure Hunt-the Lost Symbol.
The Principal of the college said that the "Fine Arts fest of Ramjas College is better than any other society fest in Ramjas and much better than the college fest!"
President of the society, Hitesh Athwani added "It was all a sincere, dedicated and coordinated team effort. Principal Sir was also impressed by our work, what else a society wants! Mélange has again broken its records of previous successful fests and set the benchmark high for its successors and also any other Fine Arts society in DU." (sic)
The Title sponsor of the extravaganza "Lions Club Delhi Veg and Victory Zeal" awarded the Presidents Hitesh Athwani  and Surabhi Chopra  and Best Coordinator Seember Hussain with "Award of Appreciation" for the commendable job done in the fest.
Check out the DU Dastan: Ramjas College:
Image credits: Fine Arts Society, Ramjas College