Following the killing of Nido Tania, the harassment of the two girls from Manipur and the Khirkee incident, a protest march was organised in North Campus on 3rd February by a group of teachers and students to raise their voices against the recent examples of racism in the city. Protesters assembled at the Vishwavidyalaya metro station before starting their march which ended at the University Undergraduate Hostel for Girls. Led by leftist student groups such as National Socialist Initiative (NSI) and All India Students' Association (AISA), the protest witnessed slogans of "racism down down!" and "nasalwadi ho barbaad!" filling the roads. Police accompanied the protesters all throughout the march, who paused in front of the Mukherjee Nagar police station to voice their opinions regarding the police's alleged initial reaction concerning Tania and the shopkeeper where it was alleged that he was beaten up a second time by the police and a compromise was forced out.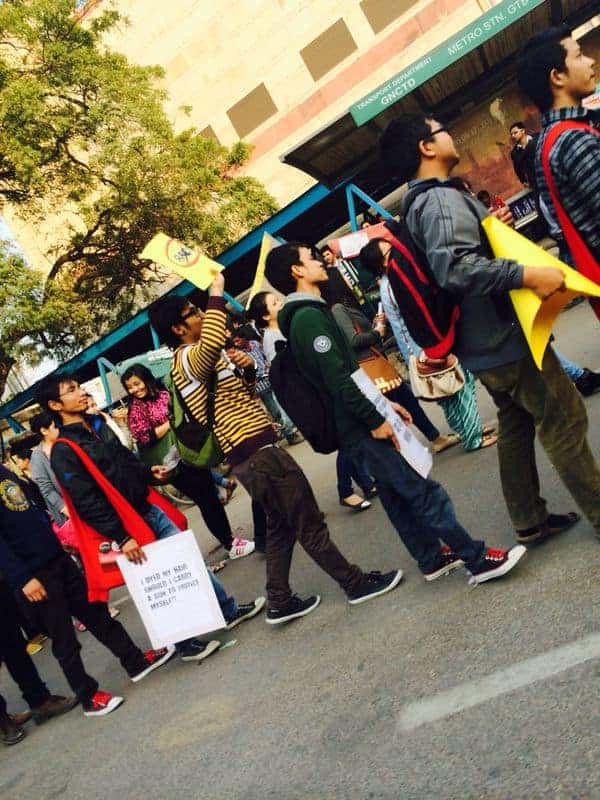 People from the assembled crowd of protesters at the Undergraduate Hostel gave voice to their take on the issue. While students of Northeastern origins recounted their personal encounters with the city's distaste for the different looking, others asked for stricter anti-racism laws. The issue of the persistent racist attitude against the African students studying at the University and living in the areas surrounding North Campus was also talked about. An appeal was made to include others suffering from racism within the same fold and to not make it an issue limited to Northeastern students only. Tackling racism as a menace which affects different groups of people in different and yet similar ways was agreed upon as the only way to move forward.
Similar protests were also seen the next day on 4th February, with students protesting in GTB Nagar.