Lady Shri Ram College for Women organised the first Manohar Shyam Joshi Memorial Lecture in the college Auditorium on the 8th of August 2013. The lecture by Mrinal Pande, Chairperson, Prasar Bharati on the "Art of Story Telling in India" witnessed a packed auditorium and was attended by esteemed academicians along with the family of Late Manohar Shyam Joshi.
For those of you who might be unaware, Manohar Shyam Joshi was the writer who penned down the first Hindi soap opera of Indian Television – "Hum Log" and the popular "Buniyaad".
Dr. Bhagwati Joshi, wife of Manohar Shyam Joshi formerly worked as a lecturer at LSR. Paying remembrance to his great work, the college organised the lecture.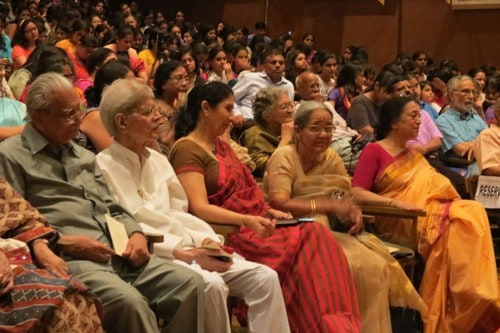 The lecture by Mrinal Pande touched upon the story telling traditions in India stating that stories in India exist as a duality of entertainment and information. She also said that often it is 'irony' that creates the magic in stories. Further, the discussion delved into censorship where she stated the existence of state censorship and self-censorship. While the former can be fought against, it is the latter that is more harmful. Taking instances from Premchand's Godan, Folk lore in Buddhism and Manohar Shyam Joshi's work, the lecture engaged well with the diverse audience. The lecture was a multi-lingual one with the guest comfortably switching between Hindi and English and quoting Sanskrit shloks.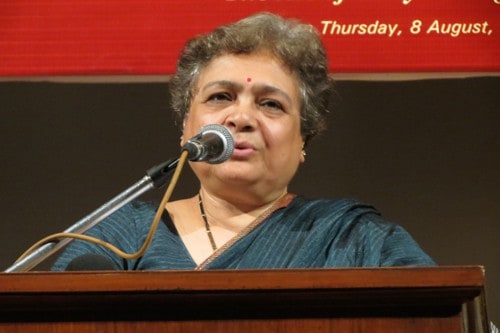 LSR's much loved KK (Kasturi Kanthan ma'am) shared an experience of her interaction with Manohar Shyam Joshi. The event ended with a short movie made by a first year student on Manohar Shyam Joshi and an address by the family of the writer.
Image Credit: Nalini Prasad