If you just got yourself enrolled in Delhi University successfully and are not from the capital, here is a warm welcome and a cherry flavored lollipop. We adore sweets.
For many of you, it probably might be the first time that you would leave behind your home and the familiarity of your school hallways and teachers, to be propelled into an unfamiliar territory without your mom to pack your lunch and kiss you goodbye and your dad to just somehow magically find solutions to all your problems, but no fear. College can be a time to reinvent yourself; you are no longer with people who knew you since you were in your nappies. There are new opportunities, new friendships to be made and new places to explore. But the hard part is to pack up your entire old life in a few boxes and try to adapt to a life where laundry just does not appear on your bed, washed and ironed. As an expert in the art of selecting what needs to go in that suitcase and what does not and to prepare oneself for a new life, here are a few tips:
Scout the territory
As soon as you are assigned a room as a paying guest or are granted one in the college hostel, scout your space. Check the shelves and wardrobe allotted to you; ask for the number of people sharing that space. Do not forget to ask about the necessary items you need to bring, like mattress or utensils etc.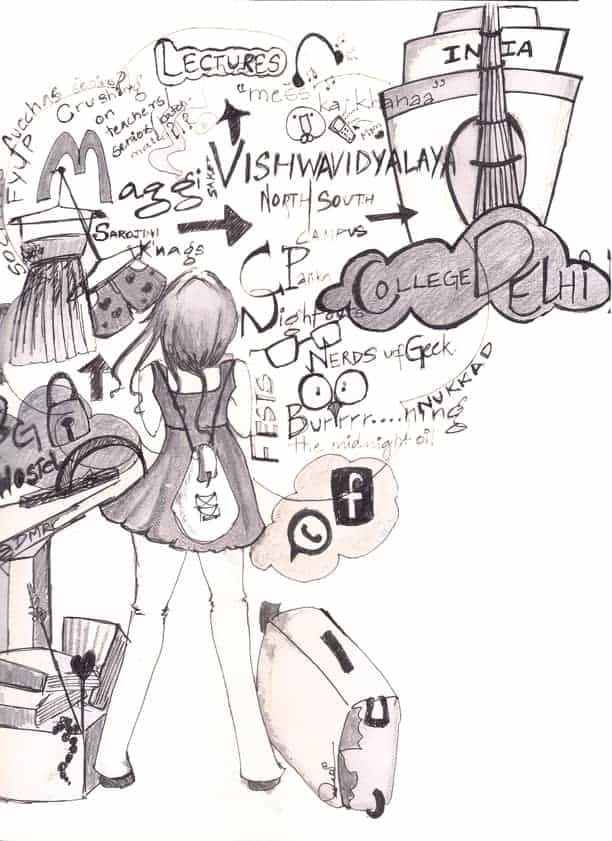 Segregate
The very important thing about college, apart from the studies of course, is your clothes. Fashion aside; do not forget to pack a few basics: Denim jeans, t-shirts, sneakers, tank tops (much needed in the Delhi heat) and sunglasses. As much as you would love to transport your entire wardrobe into your small room in hostel which you would be sharing with another human being, we do not live in Harry Potter. So, segregate into daily wear, for outings, Party wear and whatever suits you're fancy. I love my shoes, but space restricts me to not bring them all. Anyway, in college you will usually end up wearing two pair at the max daily and Delhi is not short of flea markets selling cheap footwear.
Learn to say no
Your book collection might be your pride and joy, but it can live without you. During your term you are bound to amass a lot of books, so there is no need to pack up that Lord of the Ring series. Bring a few coveted copies which you absolutely can't survive without. I cherish my copy of the perks of being a wallflower and to kill a mocking bird. Your teacher's will recommend books, your library will invite you to borrow some and Delhi streets will tempt you to but that thrift copy. Don't worry.
Also, no matter how much your mom loves you, tell her you are not going to reside a house and you do not need a toaster or a pack of plastic water bottles. You can live without them.
Learn about the city
Delhi at first might seem daunting, with its maze of streets, but soon you will get used to it. Do check upon how you plan to travel to and fro from campus. If you have never used the metro, try it with someone who knows or yourself if you are up for the challenge.
Buy a city guide. There is no harm, it helps in many ways.
A few days before college starts, try and roam around the area, look for: nearest Metro station, Bus stop, Grocery stores, hospitals, Gym, ATMs, Stationary shop, Salon, Cafe, Restaurants etc. You can also ask your landlady about this or the students already residing there.
Campus Central
The best way to learn about the campus is to move around with someone experienced, or two newbie's will also do. Just scout and talk to various people you find but try not to sound too much like a fresher. Look up the library, canteen and various other facilities. Read up about the college and its history. Do go through the website once.
All in all, remember that you are probably moving in with people who are as clueless about the place and experience as you. It could be a new bonding experience, learning about the place and finding out cheap Chinese delivery restaurants, because trust me, you will need them. Also, remind your Mom that you are not moving into the Bermuda triangle, you can buy the detergent soap she forgot to pack.