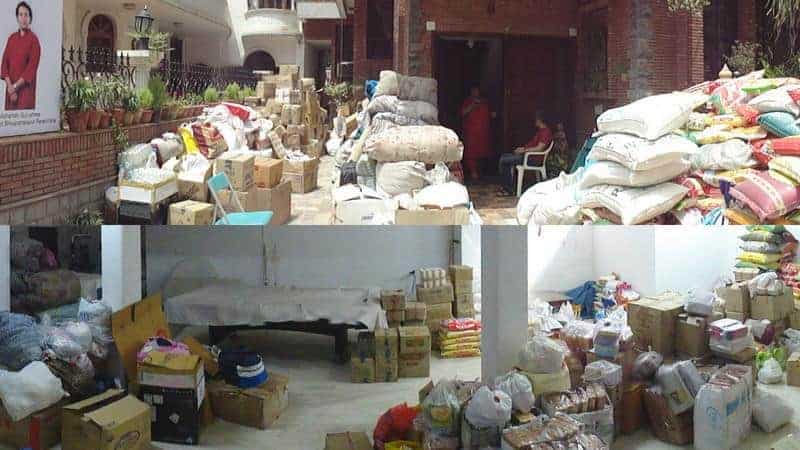 In an effort to aid stranded people in flood-hit Uttarakhand, Ishaan Sadhana Dham is joining hands in support of those affected in the disaster. The movement is calling out for all kinds of help (except money). The Trustees of the organization are themselves accompanying the trucks carrying the supplies for the first installment, which was dispatched on 23rd June'13. It includes more than 15,000 kgs supplies collected within a span of four days.
People can contribute by sharing Packed Food (biscuits, chips, water, ready-to-eat food, raw wheat/rice/pulses/salt), Medical Supplies, Clothes, Towels, Sheets, Quilts, Torches, Candles, Ropes, Umbrellas, Rain Coats, Bags, Boxes, Shoes, Slippers and Toiletries. The initiative appeals every citizen to help the flood victims as much as possible, as soon as possible, and in ANY possible way.
"Let's not just Sympathize, Let's ACT" would resurface whenever is a need and a situation wherein people only sympathize, rather than doing anything to change it. Because what brings change in actuality is proactive work, and not sympathy.
Ground Reality from Uttarakhand:
Uttarakhand has already received lakhs of tonnes of relief from all over the country, which is a commendable achievement. However, the bitter reality is that the supplies are not reaching the right people. The tourists have been targeted by rescue operations, rather than the actual locals who are affected the most. There are many specific community-based efforts. Hardly anyone is understanding the plight of the real victims of the floods- the locals. The tourists at least have a place they can call home, the locals have nowhere to go. We are neither for, nor against any political party. But we wish to draw attention to the natives of villages that have been devastated, some have been swept away by the floods entirely. We are collaborating with different small villages and helping them. Our Trustees were themselves involved in the distribution activities.
Everyone has put their best foot forward and we really thank each one for every bit of it. There has been a remarkable contribution by the army, which is under immense pressure. They have limited resources (number of people, choppers, etc) and restrictions in terms of mediums and channels.
It is a request to those in power, those who have the decision making authority, to send their forces as soon as possible and facilitate relief to one and all. A lot is being done, but there is still A LOT more left to do.
Final Stage of Phase 1:
Over 15000 kgs of Food supplies, Medicines, Clothes, Water etc. distributed in a span of 2 days
About 4000 kgs handed over to Raiwala Military Station to be sent via choppers to Joshimath
2000 kgs handed over to flood affected villages in Shiv puri – Biyasi stretch
9000 kgs sent up till Rudra-prayag (where it was possible to go via truck and in person thereafter); distributed in affected villages and tourists around Dev-prayag area.
Our team (Ishaan Sadhana Dham Rishikesh) along with some villagers from Srinagar camped in Srinagar, gathered utensils and prepared food for almost 100 stranded villagers and tourists in Srinagar; villagers who have been homeless for 9 days and in transit tourists who haven't eaten in days.
On our way back, Maharishi Gurushree, Siddh Maa, Acharya Narottam and Saadhvi even fixed up a house with a tirpal and bamboo sticks (We just had one covering the truck)
After almost 50 hours of seeing struggle, helpful locals and police officers, food rotting in rains with no one to eat, community specific buses, hungry and thirsty kids, homeless people, helpless stranded tourists, spirit of Indian Army, landslide stricken roads, pouring rain, and the wrath unleashed by mother ganges we reached back to the base camp in Rishikesh.
There are starved children, homeless women, unsupported elderlies and unemployed youth in families of thousands in Uttarakhand. A week since the disaster, the spark might have died down, but the flame still burns the hearts of those who lost their homes to the floods and the landslides. The job hasn't even started yet. We are in phase one of disaster management, evacuation; no one knows yet, no one is planning about phase two when the restoration sets in; that will be a major task. We ought to start thinking about it now and not when the D-Day arrives.
Let's not just Sympathize, Let's ACT!
A small effort on your part can make a BIG difference.
For details, kindly contact: Maharishi Gurushree +91 9999929939, Acharya Prakashanand +91 9310311133
Collection centres: J-1087, Palam Vihar, Gurgaon – 122017; C1/194, Second Floor Janak Puri – 110058
About us:
Ishaan Sadhana Dham is a Charitable Trust, or rather, a movement founded by Gurumaharaj Shree Ravindranand Shrestha to empower one and all to holistically develop and improve quality of life, through awareness
We are an international organization, with followers from Russia, Germany, Canada, US etc.
We have conducted more than 100 sessions in Delhi-NCR and 7 outstation trips
Purpose: To elevate life to a standard where people are in tune with their own self, realising the power within and being constructively useful to the world
Mission: This entire cosmos is in extreme love with its own self and here at Ishaan Sadhana Dham that is what we are aiming to achieve, because everything that we do has just one basic reason behind it and that is love.
Through our sessions, we aim at improving the quality of life under these 9 basic aspects of life around which the life keeps revolving.
1. Career growth
2. Spouse/ Love
3. Health/ Property/ Assets
4. Money/ Stability
5. Spirituality/ Family tree
6. Society and socialism
7. Dharma/ Children/ Patience
8. Wisdom/ Mental strength and capacity
9. Fame
Facebook link: http://www.facebook.com/IshaanSadhanaDham
Email ID: [email protected].com
Ishaan Sadhana Dham