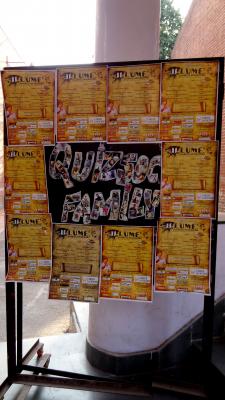 Illume, the quizzing competition hosted by Sri Ram College of Commerce is currently on for another day. Today, 28th January was the first day of the competition which has been organized by the quizzing society of the college. This society comprises of about 100 members including the President, Sushant Agarwal and the Secretary, Ashish Sen. Although SRCC usually only hosts one quizzing competition, this year they've played hosts to two. The first quiz fest took place in September – Quizignia, and the second one being Illume. This time Illume has also seen participants from Jaipur and BITS Pilani, and for this, Sushant Agarwal gives credit to the promotions. The fest has entertained over 500 teams on the first day itself. The main sponsor for the competition is the Ministry Of Environment and Mr. B. C. Sabat, Senior Scientific Officer, is the chief guest for tomorrow.
The competition will see a total of seven categories of quizzes over these two days. The Sports Quiz, Business Quiz and the Bollywood Quiz were held on the first day (28th January). The quizmasters for the business and sports quiz were- Vijay Anand Menon, one of the leading quiz masters of our country and Arnav Sinha, another leading quizmaster and a freelance writer. The quizmaster for the Bollywood quiz was Aparshakti Khurana, Radio Jockey at  104.8 FM and also the brother of the famous Bollywood actor. The second day (29th January) will hold the following categories of quizzes: The Literature Quiz, Cricket Quiz, General Quiz and Environment Quiz. One can register
themselves online, or even on the spot to participate in any of the categories of quizzes. Tomorrow, i.e. 29th January, the day will start at 9A.M.