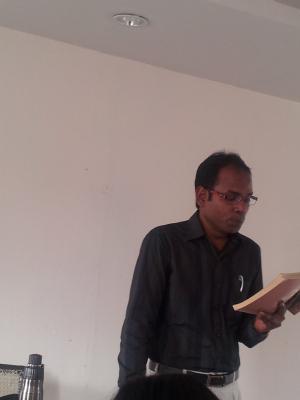 First year English Honours students got a chance to go beyond the syllabus at Bharati College, as they got to learn more about the poet G. M. Muktibodh, whose poems are a part of the syllabus. A talk was organised by Mrs. Mukti Sanyal, an English lecturer at the college. The talk was by Dr. Kavitendra Indu, a Hindi lecturer in Bharati College.
Dr. Kavitendru started with the history of Indian literature and went on to explain the different periods of Indian literature. Interestingly, the history of Hindi literature is only eighty years old, and the history of Indian literature dates back to 1000 A.D.
Muktibodh was a product of the Progressive Movement of 1936. He was a part of the Progressive Writers Association, whose aim was to remind writers of their responsibility towards the society. He was an important representative of the Movement.
Many Radical poets were inspired by Muktibodh. He was a poet, thinker and critic, but what most people do not know is that he also wrote stories. The interesting aspect of his stories was that his poems and stories on same themes also shared the same title.
His most famous poem is called "Andhere Mein" (In the Dark), which aims at revealing the two-faced nature of most people in society, especially the people in power. His poems revolve mostly around fantasy and inner-conflict, or aatmasangharsh. Dr. Ram Vilas Sharma, a famous critic, criticized Muktibodh, who was a Marxist, for showing his conflicts in his poems, as poets are supposed to show the reader a certain path to follow.
Being from Maharashtra and not learning Hindi from the very beginning, Muktibodh uses many Sanskrit words.Furthermore, he was not glued only to literature, but was also interested in Maths, Science and Philosophy. He uses terms from these fields in his poems, thus giving his poems a distinctive ring. He used new metaphors and similes, in stark variance with the ones that were generally used by poets through many centuries.
Neha Malik, a student, said, "the talk was very helpful for a better understanding of why he wrote such poems. Reading the Hindi original made up for the things that were lost in translation. Also, having a Hindi lecturer explaining was a different experience as he was able to quote other poems as well."
Some students, such as Shreshtha Sharma even claimed to have found Hindi much more interesting after the lecture.
Shreya Mudgil
[email protected]