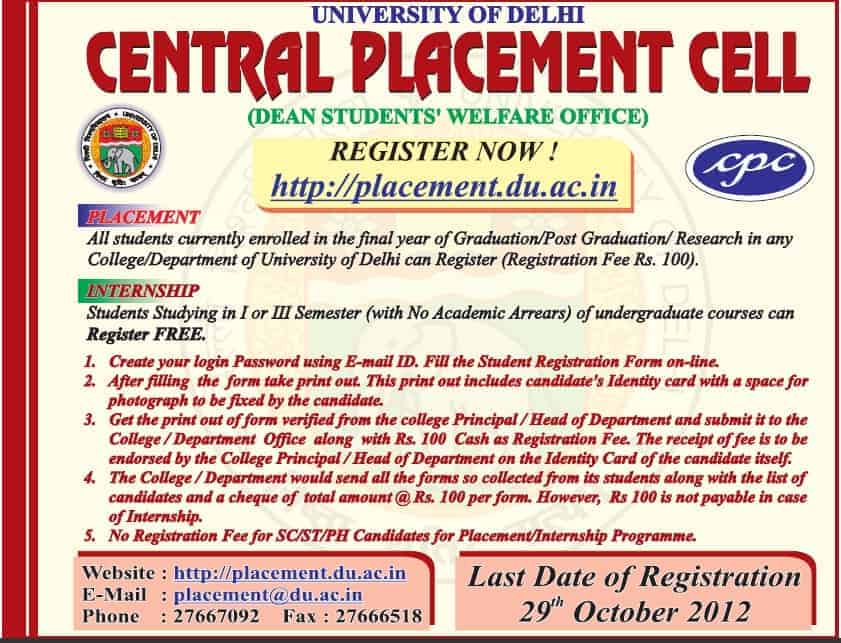 The Central placement cell has been one of Delhi universities most successful initiatives. It has been started to bridge the gap between the bright, energetic and aspiring young talent of the University of Delhi and the Industry for meeting their personnel requirement. It is surely a great platform for students of those colleges which don't have their own placement cell. "CPC not only helped me to get recruited in a world class bank like Citi bank but also helped me in boosting my confidence and further developing my personality", exclaims Paras Khanna ,an alumnus of Deshbandhu college.
The main endeavour of CPC is to get students placed in reputed Multinationals, government jobs, NGO's and the private sector and enable them to reach the top echelons of the society. All registered students with CPC are also entitled to placement assistance, counselling for employment and even self-employment. This year the CPC went online and enabled both students and companies to register online itself. The registration started on29th September and ended on 2nd November.
The placement process mainly comprises of three major steps, the first being the pre placement process where placement presentations and slot allocations would take place, the next major step would be of placements where students would have to go through written tests, group discussions and personal interviews  and this would finally be followed by the job offers and monitoring.
The CPC website also contains the important guidelines and do's and don'ts for students who are willing to sit for placements. CPC also held workshops to groom the students, brush up their communication and analytical skills.