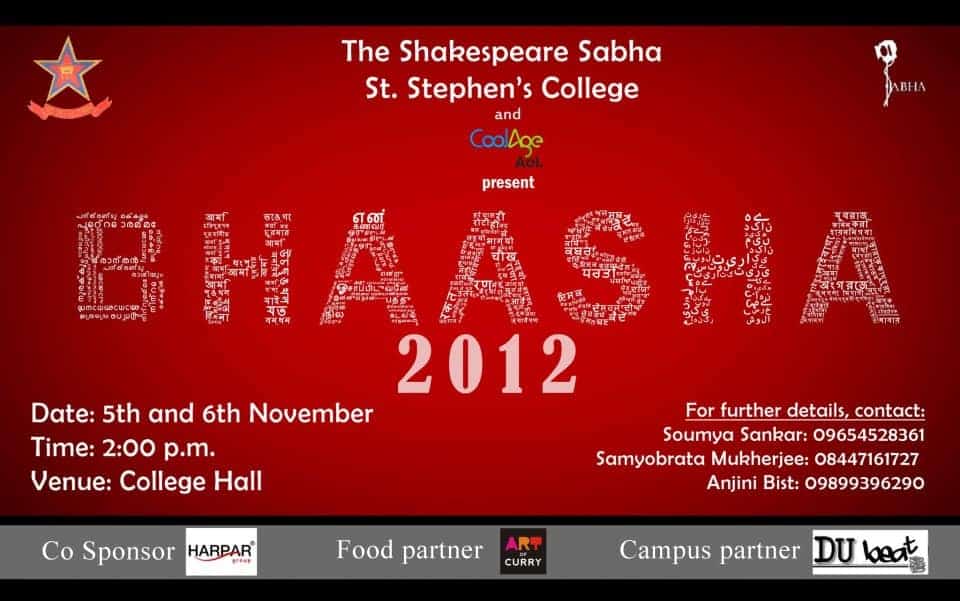 India, with its cultural and linguistic diversity, has among the richest traditions of theatre in the world. Nearly every language, every region, has its own form of theatre. In an attempt to bring all these onto a common platform and learn from the various traditions in theatre characteristic to different Indian languages, the Shakespeare Sabha of St. Stephen's College initiated Bhaasha, a Multilingual One-Act play competition in 2011.
In addition to this attempt, Bhaasha was also initiated to reflect the idea that that language, while being an important tool of theatre, is not the be-all and end-all. Bhaasha is the manifestation of our belief that theatre transcends language.
The idea of a multilingual theatre competition is pretty new to Delhi University and was conceived only last year. In its first year 'Bhaasha' was a bit of an experiment and entries were restricted to within Delhi University. We received wide and enthusiastic participation and the audience was treated to a feast of theatre over two days. The Shakespeare Sabha entered two non-competitive entries. The first was a short mime and the second, was 'Ibn Batuta', far more elaborate and wider in its scope. The production embodied the spirit and the underlying idea of 'Bhaasha'. 'Ibn Batuta' featured seven regional languages. Actors recited poetry in Punjabi, Malayalam, Rajasthani, Manipuri, Tamil, Bangla and Urdu evoking themes and emotions varying from pathos to revolution. The concept and execution of the play was widely acclaimed. Of the competitive entries, it was Shunya, the dramsoc of Ramjas College that carried the honours with its brilliant play, "Bang! Bang! You're Dead!" The honour of best director went to Aarushie Sharma and Heena Aggarwal of Ibtida (Hindu College) for their play "Us Paar".
Having tasted success with our experiment, we have looked to expand the scope of Bhaasha. In only its second Bhaasha has gone national and much to our relief, multilingual. The entries this year are diverse in character and presentation.
This year, we open with 'ABOHOMAN', a play by St. Stephen's based on an episode from the Mahabharata followed by 'WHAT THE HELL' – a comedy of emotions by Ibtida (Hindu College) inspired by Jean Paul Sartre's 'No exit'. Next up is 'KUTTE', Vayam's (Shivaji College) adaptation of Vijay Tendulkar's comment on the modern workplace. We wrap up the first day with Ankur's (SGTB Khalsa College) take on Manto's 'THANDA GOSHT'.
First on 6th November is 'LAAL PENCIL', Astitva's (Dyal Singh College) play on the association of a girl with her red pencil. Jadavpur University, Kolkata present their play 'HARADHAN PRAMANIKER PROSTHAN' – a growing up tale that connects six drastically different lifetimes together.  Following this, is 'NOISES OFF', a play by SRCC about the multi-fold, quieter behind the scenes narratives that play out their stories even before the real tale can begin. Last year's winner, Shunya (Ramjas College) then presents 'SAINTS AND SINNERS', four stories, of four unscrupulous men. The concluding performance is that of the Hansraj Dramatics Society. Replete with songs, the play revolves around the passionate misery of Topan Lal Keshwani.
A brilliant experience and a celebration of Indian theatre, Bhaasha has been a treat for the audiences, performers, judges and organisers. We expect Bhaasha 2012 to be twice as good, twice as entertaining. And we hope that in the years to come Bhaasha will grow further and its underlying idea will come to fulfillment.
Visit their Facebook page for more details, http://www.facebook.com/Bhaasha.SSC.