The cities of Bombay and Bangalore have played the part of the unforgivably cool kids who quirk their musically erudite eyebrows in mild amusement at Delhi, which is perceived (not very wrongly) as a city that is only too blissfully content in dhik-chikk-ing behind its tinted SUV windows and brightly lit pubs, to the exalting tunes of Amplifier (and perhaps a dose of Akon and Mahombi for the discerning lot). Sting as it may, but the bleak truth was that, even in the fledgling landscape of independent music in India, Delhi and its people rank nowhere on the radar.
However, if the success of the Gig Week, (an independent artists' summit) is any indication, it seems that Delhi may finally be on the verge on rolling down those tinted windows and exposing itself to sounds of a new kind and timbre altogether. It may not have been a manic explosion of musical ideology, but such a first attempt was enough to give eager ears hope that finally, this city too could make music. And how.
We bring you some of the names, sounds and voices to be on the lookout for, as they up the ante for the scene of home grown independent sound.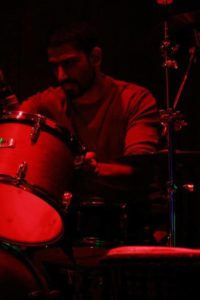 KARANVIR SINGH
Jokes Apart, the Sri Venkateshwara college band, plays a mix of groove based progressive and funk rock with a tinge of blues to it, and has had quite a successful presence on the Delhi University music circuit. Formed on the first day of college itself, over two years ago, it has won several DU competitions (the most recent of which was winning Best Band at St. Stephens in February 2011), and just recently made the crossover from playing college gigs to playing their first commercial venture at Hauz Khas.
Masquerading as a reluctant third year English student, their drummer Karanvir Singh's priorities have startling clarity when he voices his (not unfounded) apprehension about the future of a rock band in India, yet staunchly refuses to let it diminish his own involvement with it. In a frantic telephone interview conducted midway through his recording session with a friend, he acknowledged the lack of acceptance for quality music in Delhi. His focus now lies more on composition and production, as he believes that by producing music of impeccable quality, he can try to bring about a change the way alternative music is perceived in Delhi.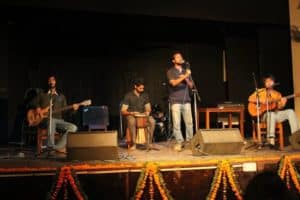 Catching hold of him proved to be an exhaustive lesson in patience and panic (with the threat of a looming deadline), but his focused, no-nonsense perspective on music made it well worth the chewed off fingernails.
RITWIK DE
Ritwik De grew up looking at his father play the guitar, and was 15 when he formed his first band. Trained in both western and Indian classical elements, Ritwik strictly eschews genres and espouses himself as a maker of 'happy-sad' music. Vehemently against the compartmentalization of music into library-like definitions, his oeuvre contains influences from every genre that is, and his inspirations include Steven Wilson, Radiohead and Sigur Rós. Helming an independent label aptly titled 'Ghar Ka Records' and with the release of his band Mindflew's debut album 'Seventh House and a Mofo' in the offing, he too talks with some trepidation of the future of independent music in India, wondering that despite the gradual growth of live gigs, how many would actually purchase a CD or download a track. However, his skepticism still harbours hope for the future, as he continues spearheading his own brand of 'happy-sad' music into the world.
 DHRUV VISVANATH
A geography student of Shaheed Bhagat Singh College, Dhruv Visvanath, who recently released his EP Chronicles (a huge step for his musical career, as he says), has opened for Swarathma and played on the stage of the Siri Fort auditorium, cites Andy Mckee, Joe Bonamassa and Antione Dufour as a few of his major influences. A self-taught guitarist, bassist and pianist, and vocalist too, at times, he sees a slow but gradual need for quality music developing in the city. The availability of venues, and technological platforms and the increasing frequency of live gigs, is according to him, an immense catalyst that is enabling more and more burgeoning underground musicians to emerge out and showcase their ability to a receptive audience. Having finally ventured into the 'music market' earlier this year, he counts himself as fortunate to be able to reach out to listeners and sees hope that this audience will grow and foster.