Delhi University has taken the mammoth task of educating the youth upon its shoulders. And in this endeavour, the university provides a wide range of courses. From a BA in Chinese to a B.Sc in Food Technology, DU has a lot to offer to its students. And now, it seems, the university has unintentionally added another course to its rather long list: that in animal relations. No, it isn't official, but with the wide variety of animals on campus, students have no option but to deal with them and acclimatize themselves to their furry friends.
Almost all DU colleges have canine presence on campus. A stray nonchalantly wandering into a classroom whilst a class is in progress is a common sight. It hardly elicits a reaction beyond the initial sniggers. Only a classroom full of freshers, who are not yet used to such idiosyncrasies of the establishment of DU, are fascinated by it, and now, even they are getting used to it. Of course, like students, even the dogs have favourite haunts. A particular dog haunts the lover's point in Hansraj College. Another in is permanently stationed in The Girls' Common room there. While most students consider them part of the furniture, a lot of them are scared of them which actually serves as disincentive enough for not going to the GCR. However, Hansraj also has its fair share of dog lovers. Rumour has it that a student was allowed by a teacher to take her dog inside class and actually got double attendance for that class. A similar situation exists In Hindu College. A white dog with sparse black spots is found to be sleeping perpetually in the central foyer of the college. Different groups of students have christened the dog differently. Another litter of puppies has recently appeared in Hindu and can be seen wandering around campus. A few good samaritans can be seen petting and feeding these doggies.
However, the dogs In St. Stephen's are close to almost all the students' hearts. It seems there that everyone loves the dogs. Of course, some may disagree, but they keep this to themselves- such is the devotion to the four legged creatures. These dogs are well fed as they get the leftovers from the café. They also have unique names. Floppy, Pinky (who is actually back), Sicko are the well known ones. These dogs are integral part of the lives of the students here, especially the ones who live in the Residence.
On the other hand, Lady Shri Ram College for Women is known for the many cats that proudly walk about. These cats become alarmingly thin during the vacations, but are nourished back to health as soon as college reopens. There's a really friendly tabby cat who is everyone's favourite. Another ochre couloured cat is apparently drawn by the slightest whiff of food but vanishes as soon as anyone tries to pet it. There also an elusive black cat, who is said to be very beautiful, but is tricky to spot.
Jesus and Mary College has a small zoo within itself. With monkeys, cats and dogs scampering about the place, it is a haven for animal lovers. Delhi College for Arts and Commerce also has a monkey problem, but has a langur around to shoo away the lesser simians. However, students allege that the langur is kept in inhumane conditions in a small dark room. Stephen's also has a langur, Chetak, but he doesn't stay on campus.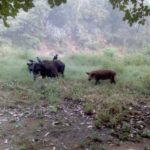 But the prize for the most bizarre animal on campus goes to Dyal Singh College. They have pigs on campus! Some students are utterly disgusted as it definitely speaks volumes about the arrangement for keeping the college clean, or the lack thereof. However, students claim, that with the closing of a nearby drain, the number of pigs have significantly reduced.