The excitement over the week was definitely sparked by the New Delhi Book Fair held at the Pragati Maidan from 29th August to 6th September.
Armed with an impressive array of books the place saw enthusiastic crowds on almost all days, the interest refusing to peter out till the end.
The usual Rs 100 stalls with stacks of popular reads were naturally the centre of attention, hiding as they did some gems buried beside their more commonplace brethren, absolute steals provided your eyes proved sharp enough to spot them.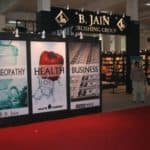 Popular publishing houses such as Penguin, Harper Collins, Oxford, Random House, etc shared the floor with deemed ones such as Sahitya Academi Publications. Books written in every which language, Indian or otherwise were in good stock and children's books too proved great crowd pullers, with the well loved Children's Book Trust deserving special mention.
An interesting sight that greeted us was the Graphic Novel. Having arrived in large numbers, these comic adaptations of well known classics were definitely capturing a large portion of the spotlight, their prominent presence in the book fair suggesting that the Graphic Novel culture has finally made its presence felt in the great capital.
Jaswant's Singh's book signing sessions for his much talked about novel "Jinnah: India-Partition-Independence'" also received their fair amount of attention, probably benefitting from the court drama and finally the revoking of its ban by the Gujarat High Court.
All in all, the fair was a great success and left all enthusiastic shoppers eagerly awaiting the next one.