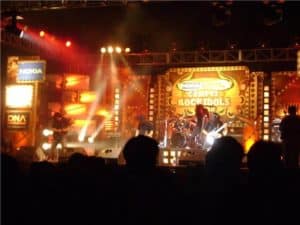 Campus Rock Idols, the biggest inter-college music competition for rock bands is back for the fifth time. Being one of the best platforms for amateur bands at the college level to demonstrate their talent on a nationwide basis, CRI attracts the who's who of India's music scene. The bands not only get a great stage conforming to international standards to perform on, but the exposure is also very good since they will be showcased on VH1, India's only international music and lifestyle channel. The winners walk off with a hefty cash prize of Rs 75,000 and also the opportunity to open for an international rock act. The runners up will be gifted Gibson guitars.
The competition begins at the city level where college bands from different cities like Shillong, Pune, Manipal and Chennai compete against each other. The finals for the North zone were held in Delhi on 31st January in Delhi College of Arts and Commerce, Netaji Nagar. The competition was mainly between Chandigarh and Delhi but ultimately, the winner 'Jesters' and the runner up 'Cease Her' both turned out to be from Delhi. The headline act was by Prestorika and Them Clones.
Watch out for the grand finale on 7th February in Gandipet, Hyderabad.
There were over 150 bands participating from all over India, some of the notable ones being:
Vyom – A five-member band from Vishakapatnam. They specialize in hardcore and melodic goth rock and their music varies from intense guitar riffs to soothing, clean, harmonized vocals. Expect a lot of screaming and head banging from these guys!
The Sound System – For the four members of this band from Pune, music is life and they believe in playing straight from the heart. They are mainly inspired by classic rock.
Project Unholy – They hail from Jalandhar and are influenced by bands like Slayer, Lamb of God, Dimmu Brogir, Death and Opeth. They try to have as much fun on stage as off it and every performance gives them a rush, pushing them to do better each time.
Academically Challenged – The metal band from Calcutta believes that studying sucks! A little low on exposure, but they still pack quite a punch. All hail the back benchers!
About all the fat children – Alternative/progressive/heavy metal is how this band from Bangalore describes their genre of music to be. Their influences include As I Lay Dying, Demon Hunter, Metallica, Iron Maiden, Killswitch Engage, Machine Head, Dream Theater, Breaking Benjamin, Nickelback, Bryan Adams, Pink Floyd and Evanescence.