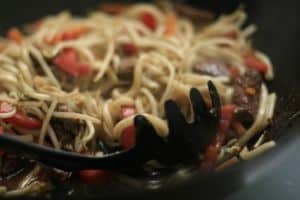 NOODLES
Location: 30 UB, Jawahar Nagar, Kamla Nagar, New Delhi-110007
Landmark: next to Momo King
What do you do when you spontaneously decide to bunk the morning lecture and grab a quick bite to enliven your spirits instead? Grab your chopsticks folks, and head straight to Noodles! Keeping in mind the traditional taste of north campus food, we knew Chinese was a safe bet!
Conveniently tucked in the service lane behind Bungalow Road , Noodles is an upbeat Chinese restaurant specializing in Thai and sea food along with its Chinese cuisine. Inspite of occupying a prime space in the Momo Street of north campus, Noodles is probably one of the lesser-known Chinese outlets. Enter, and you are bombarded with the zesty aroma of noodles and Manchurian , so characteristic of Chinese fare. The jazz music in the background plays its part in arousing the gastronomic senses and Voila! You are ready for a foodie adventure of the Chinese kind!
Noodles' specialties include crispy dry lamb chilly and braised lamb mushroom, but there's ample scope for vegetarians too-we suggest you give the vegetable Manchurian and chilly paneer, a shot. They are absolutely mind blowing. The paneer chunks are amazingly tender and oh-so-soft that you are left craving for more. The Manchurian has all the right ingredients in the exact amounts, which give a very authentic Chinese zing to it. The ambience is bright, the atmosphere peppy.
It indeed does wonders for business, attracting a mixed crowd of college students as well as families, looking to satiate their taste buds. The only drawback was that the service turned out to be pretty lousy .They took almost twenty five minutes for a plate of vegetable fried wontons, which were certainly not worth the wait . But that's where it ends.
All in all a total value for money eatery: A meal for two would comfortably come under Rs.150 or less. If its brunch or some lazy in-betweens you are looking for, Noodles is definitely the place to be as snacks for three can be easily accommodated within Rs.175.
Go indulge the glutton in you!