Following the response to an RTI filed by Delhi University Students Union (DUSU) Joint Secretary Raju Rawat and DU teacher Amitav Chakraborty in March this year, the Four Year Undergraduate Program once again came under the scrutiny of the media and organisations like DUTA. The RTI consisted of 7 points including questions regarding the exact number of laptops purchased to be distributed to the FYUP students, the name of the tender finalised for the purchases, and the Budget Head under which the funds for the laptops were taken from. A copy of the RTI can be seen here.
The response to the RTI (which can be viewed here) stated that the 62,600 laptops (60,000 for students, 1350 for students of EOC and 1250 for teachers) had been purchased under the Budget Head 'OBC Grant for University Departments' and 'OBC Grants for colleges'. With each laptop costing Rs. 27,565.50 under the MRP, that amounts to a total of Rs. 1,72,56,00,300. The University has since then received flack for apparent misappropriation of funds in order to propagate the FYUP.
In a Press Release and letters written to various media houses and newspapers, DU Registrar Alka Sharma pointed out that the OBC Expansion Grant, as declared in 2008, had been allotted for infrastructural facilities, non salary expenditures, IT infrastructure and equipment, and hence the purchase of laptops under it can be termed as 'legitimate activity'.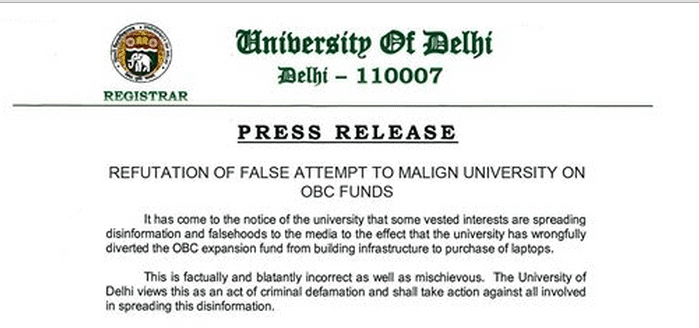 Organisations like the Democratic Teacher's Front and DUTA, have however, have issues statements saying that the allocation of funds from the OBC Grant towards the FYUP laptops still counts as 'diversion', because the infrastructural facilities it was meant to be used for "construction of IT-enabled large-sized classrooms, extra Science laboratories and lab equipment, Computer Labs, furniture and faculty rooms", which the University did not follow, especially last year, which led to infrastructure related problems for the FYUP students.