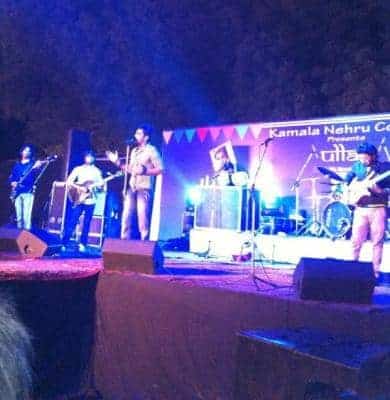 Post an extravagant bout of some serious competition among various colleges, the second day of Ullas gave way to an explosive and throbbing performance by the Sufi rock band Nasha, which redefined the phrase and in its truest sense, set the stage on fire.
As dismal as the host students were by the fact that there is no big shot celebrity performing at their fest and completely ignorant of the fact that within three years of their career, Nasha has climbed the farthest rung in the ladder in terms of popularity among the youth, it did not take more than a couple of minutes for them to break out of their disinterest and rock to the tunes of the performing artist. Primarily performing popular songs by various artists, they hit the bull's eye with their famous version of the song 'mein tennu samjhawan' and 'gulabi aankhein'.  Akhil Sachdeva, the lead singer and the front man of the band, spelt soul with every beat of the songs he sung. He enigmatically mesmerized the crowd, and was greeted by a thunderous share of hooting from his fans in the crowd. He created an atmosphere of pure mysticism by his lively and energetic performance that lasted for a time span of two hours, but echoed in the mind of the audiences for the entire night and beyond.
Akhil Sachdeva was hounded by his female fan following pre and post the event, who dedicatedly chased him for photos and autographs even back stage. But the amazing raw appeal and connectivity with audience that was displayed by this band left the entire crowd awe struck and yearning for more.