Apart from the regular range of spicy street chaats and traditional comfort-food dishes, Delhiites are never too hesitant (or in fact, full) to try something new, and always welcome delectable varieties with both their eyes and mouths open (even with wallets empty). While Chinese, Thai and Italian may top the list of the most preferred international cuisines for now, it's not too late for tummies of all foodies to be growling just at the mere thought of soft scrumptious sausages being served with braised cabbage and sweet mustard or a mouth-watering plate of juicy pan fried schnitzels surrounded by crispy potato wedges.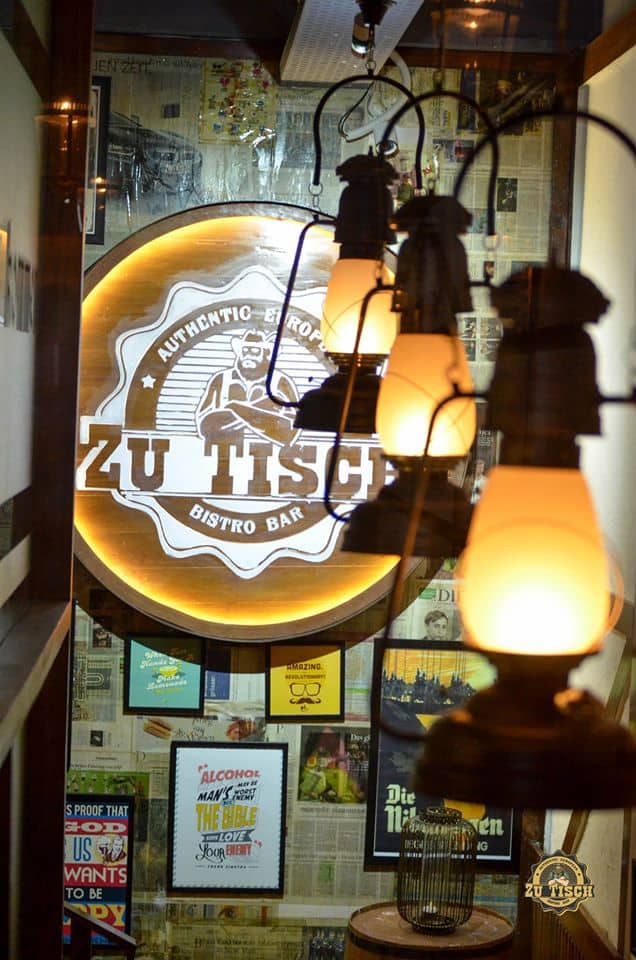 To make this experience of German cuisine even better, we have the new restaurant Zu Tisch to thank. Nestled in the heart of the capital in the bustling M-Block market of Greater Kailash-1, Zu Tisch is the first one-of-its-kind European Bistro bar and restaurant which serves authentic German cuisine. It was founded by a group of IIT-ians who quit their jobs to open up a restaurant and decided to devote all their time to two things which they loved more than anything else in the world- food and music. It is highly likely that whenever you walk in you're your friends in the evening, you'll be welcomed with a live gig. On more than a couple of occasions every week, they have renowned artists performing at the bistro, which not only builds up an exciting and fun venture for all music lovers, but also instantly enhances the whole dining experience altogether.
Apart from its perfectly crafted German menu, impeccable service, rustic vintage charm and beautiful ambience, what also makes this place extremely popular among all students is the fact that it proudly hosts music societies of different colleges every "Thursday Night, Live!" in an acoustic intimate setting. It includes college A Cappella, trio or solo performances with a specific headline act. They not only provide opportunities for college societies to perform in front of a live audience and gain confidence, but also serve as a platform where they can take chances, become spontaneous and different, learn from their mistakes and grow into better artists with each new performance. Lady Shri Ram College for Women, Gargi College, Shri Ram College of Commerce, St. Stephen's College, IIT Delhi and Sri Venkateswara College's Western Music Societies are some of its past performers.
Rhea Mahanta of Western Music Society, LSR, tells us, "Playing at the Wine and Music Fest at Zu Tisch was an experience of simply loving what you do. The crowd was so interactive that it felt like a space where we could play around with the boundaries of music and do our own renditions, and people welcomed it! It was a close knit community of souls genuinely wanting to see what we had to share and be a part of that musical exchange."
Special discount offers for all college students, such as 1+1 pizzas and drinks on all Thursdays, Happy Hours on pizzas, pastas and drinks everyday till 6 p.m., and many other fun deals on food and drinks also make this place too irresistible to be missed by anyone.
They are also further introducing a campus ambassador program called 'My office desk is a bar station'. Any student who is currently studying/ has graduated from Delhi University's college can apply. The program allows students to work at a bar and work closely with their college music society based events. They will get free FnB, an opportunity to collaborate with other artists and fixed monetary bonuses every week. To apply, contact 9953469902/ [email protected]. Zu Tisch also requests more and more music societies, bands or musicians to come forward and approach them for gigs.
Image credits: Facebook Page, Zu Tisch