Football fans from all over the world are buzzing as sport's most popular event in the world, the FIFA World Cup 2014 is here. And yes, the very fact that it is going to be held in Brazil this time puts it on an even higher pedestal. As has been the case with every World Cup, a lot is expected not only from the tournament as a whole but also from certain individual teams. So it is no exception that 2014 should be any different, and here are the top five teams (in no specific order) that everyone will be dying to have a look at in this Football season.
1. Spain
A talented and creative side with a plethora of midfield options, Spain's greatest strength however lies in their team chemistry and characteristic tiki-taka playing style. Vicente Del Bosque will be looking to add a second World Cup star to the Spanish jersey, and thus also becoming the first manager ever to win successive World Cups.

The analysis of the unique reinvented Spanish football philosophy 'tiki-taka.'
However, many critics often cite the example of last year's Confederations Cup, and thereby suggest that tiki-taka has been deciphered and Spanish era of football dominance is now on a decline. Therefore, it is the perfect opportunity for the defending champions to silence off their critics and regain their throne in world football.
2.Belgium
Most football pundits term them as the dark horses of this World Cup. Belgium's squad comprises of a great young bunch of talented players. The individual brilliance of these star players have been showcased at some of the greatest platforms offered in European football. They are however not considered as serious contenders to win the cup as the squad lacks composure and experience, and might find it difficult to adjust in the varied conditions of Latin America. Nevertheless, the pacy, swift and robust Belgian players are always a delight to watch.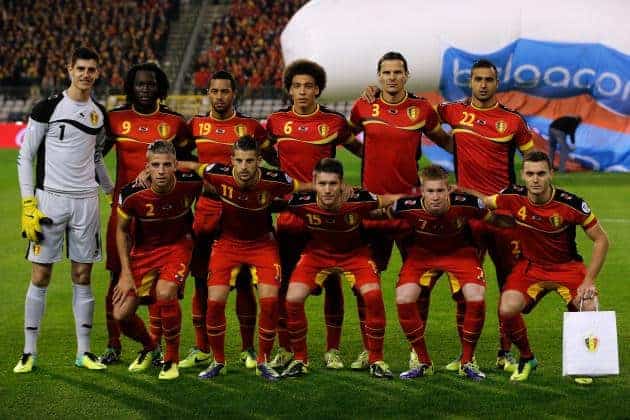 3. Brazil
Watching Brazil play in front of their home fans is an unparalleled joy which no football fan has ever experienced yet. Luiz Felipe Scolari has managed to rediscover the natural attacking thrust and free flowing footballing style that Brazil is remembered for, and the 5 time World Cup winners head into the competition as the favorites to win the tournament.  However, this Brazil side is relatively young and inexperienced, and it will be exciting to see whether they are able to live up to the massive expectations riding on their shoulders.
Brazil decimating the current World Champions (Spain) in the Confederation Cup, 2013.
4.Germany
No European team has ever managed to win the World Cup on Latin American soil. And if there is one team that is most likely to break the deadlock this year, it has to be on Joachim Loew's side. Be it because of the squad's perfect mix between experience and youth, or perhaps because of their organised style of build up play, or maybe even because of the individual quality inherent in this German side. Therefore, many people feel that it should be hardly surprising if the 3 time World Cup winners were to emerge as champions in Brazil.
5.Argentina
Someone once said 'Attack is always the best defense'. He was probably an Argentinean. Messi, Higuain, Aguero, Di Maria, Lavezzi, and Fernando Gago are only a few of the star names in the Argentinean team sheet. Coach Alejandro Sabello is going to have a really tough time choosing  his attack, and will also be hoping that his immensely gifted attacking squad will be able to make up for the defensive worries that plague his side. It is definitely expected that their matches are going to attract a large portion of the neutrals.
An array of Argentina's amazing  attacks and some of the most memorable goals.
Featured Image credits: www.soccerlens.com