There are books which we read and in that moment they make all the sense in the world, but soon they slip from our minds as reality slowly takes over but then there are books we just can't seem to forget, whose pages are earmarked and whose words we remember by heart. On this World Book Day, the staff at DU Beat went all nostalgic and  listed their favourite books of all time and the experience it gifted them. Scroll down for genres ranging from mystery to children's tale.  
 A Little Princess, by Frances Hodgson Byrnett
I read this book in Class IV on the recommendation of my school librarian. It was a stark departure from the usual Enid Blyton books I picked for myself. Those books had interesting and colourful illustrations on their covers, while this one seemed plain, bound in a dull maroon colour. The cliched saying of not judging a book by its cover, as always, proved to be true here too.   The book, which revolves around Sara, a 7 year old's life, and the ups and downs she experiences, left me sobbing. I cried when Sara lost everything she had, and was awed when she maintained the pride she had in her tiny self despite her difficulties. Though I've read many books that have left an impression on me in the past few years, A Little Princess is one book that stands out in my memory
– Priyanka Banerjee, Editor
---
A Thousand Splendid Suns, by Khaled Hosseini
Khaled Hossaini's 'A Thousand Splendid Suns' is quite a masterpiece by my account. It has all the elements of an epic tragedy, including love, hope and disaster. What I love about this book is how well Hossaini captures the inner workings of both the protagonists' minds. All their thoughts, all their fears; are laid bare before us, making us think we are given direct access to their souls.   Furthermore, the way he weaves both the women's stories together is magic. The turmoil faced by both, on different levels; the hardships they overcome (eventually together) made me shudder. A Thousand Splendid Suns was a window to a culture I was alien to. It is a story of women still being treated as second class citizens, their beauty and productiveness- still objectified. This book is one you can relate to personally on so many levels. This book is one that touches your soul and leaves you quivering. Khaled Hossaini's A Thousand Splendid Suns is a book to be read, admired and feared-
Mridul Sharma, Associate Web Editor
---
Love in the Time of Cholera, by Gabriel Garcia marquez and Shadow Lines, by Amitav Ghosh
My favourite books are "Shadow Lines" by Amitav Ghosh and "Love in the time of Cholera" by Gabriel Garcia Marquez. I like them both equally and the reason why its so hard to choose one is because of the ability of both books to present the day to day complexities in the most simplistic, yet magical manner. Marquez, the master of magical realism presents an extraordinary romantic narrative, and Ghosh, impresses us with his uncanny understanding and critique of social institutions like nationalism and religion implores the reader to imagine a world that transcends borders of any kind-
Siddhi Goel, Copy Editor
---
The Catcher in the Rye, by J.D Salinger
Catcher in the Rye explores a genre where fiction is less extraordinary than reality. Written in a matter which most consider rant, the protagonist Holden is a pioneer of self obsessed individual with the only view that matters being his own. Life simply passes by in the book with no event being more important than the other. I read it because its honest and accepts that people in reality can be boring
– Niharika Singh, Web Editor
---
The Fountainhead, by Ayn Rand
I'm far from an Ayn Rand worshiper, but then I was, kind of forced to read this one, by my elder brother and since then, 'The Fountainhead' has been on the top of my list. An epic combination of romantic drama with philosophical work! It's a bit of a beast (over 700 pages long), but it's worth every word
– Shaily Sharma, Associate Editor
---
Master of the Game, by Sidney Sheldon
Although Sheldon has a knack for making his female protagonists iconic, he took the notch two steps higher with Kate Blackwell, the central character of Master of The Game. The book starts with Kate's father, a small time farmer who makes it big as a diamond merchant. After covering his fair share, the story progresses through Kate's life followed by his son and her two grand daughters. The sheer amount of surprises and twists the book packs makes you want to forget it and re read it with the same excitement.     Another very interesting aspect of the book is the brilliance with which it reveals the devious side, beneath the veneer of beauty and privilege, of one of the richest families of the world and the pace with which Sheldon manages to cover over four generations and still make you feel like you can read more
– Raghav Chopra, Copy Editor
---
Billy, by Whitley Striber
I'm not an archetypal bookworm, I will read anything that catches my fancy, and often forget most of it. One of the very few books that come to mind when someone asks me about my favourite one is Billy by Whitley Strieber. In a nutshell, it's a dark story about the horrors of child abduction. But in reality, the nutshell doesn't quite do justice to the chills that occasionally ran up my spine when I read it. Rather than focusing on the family of the victim, the narrative takes us into the twisted mind of Barton Royale, the perpetrator. The most terrifying part is that somewhere between Barton's reassurance to himself that he's not a pedophile and his sickening treatment of Billy, I found myself almost hoping he gets away with it!
– Vani Vivek, Associate Web Editor
---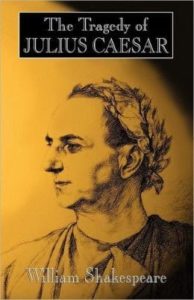 Julius Ceaser, by William Shakespeare
For a hoarder of books, the task to pick a book that impacted me the most was a hard ordeal. After looking at my book shelf for an hour and and weighing the pros and cons of each book, I decided the book that gave me a life-changing experience was Shakespeare's 'Julius Caesar', which I had read during Class 10th as part of my syllabus.
With a plot revolving around Roman History and Shakespeare's play of words, it was the love at first sight with English Literature when characters were immortalized and offered life-lessons. Maybe it was also the quest to study the drama deeply for good marks, but Julius Caesar had been an important part of my life since then. The quote from the play that gives me inspiration often when I find myself odd at times with the world;
'There is a tide in the affairs of men
Which, taken at the flood, leads on to fortune;
Omitted, all the voyage of their life
Is bound in shallows and in miseries."
– Arushi Srivastava, Copy Editor