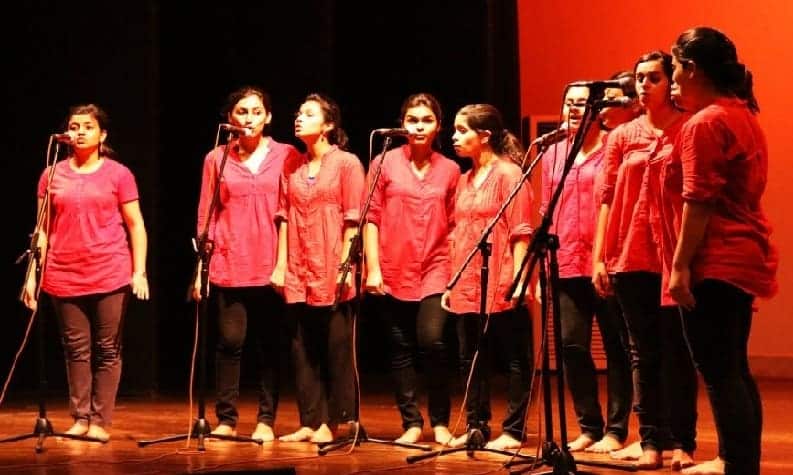 A beautiful tune sails through the doors of a small green room packed with around 25 lively singers. Some touch high notes while others delve deep into lower scales. But despite the unique and textural differences in their voices, when strung together, they produce a beautiful melody that rings as one. This is the Western Music Society (WMS) of Lady Shri Ram College, a bunch of students brought together by their passion for music and their commitment to giving every event and competition their best shot. "It's not just about winning. I auditioned for WMS mostly for the music. Apart from that, there seemed no better opportunity at getting a chance to nurture my talent and have fun at the same time," Said Tanushree Sarkar, a core member of the WMS.
It seems like this society blossomed overnight, starting out as a small band singing during college assemblies, to a 25 plus choir, belting out complex and beautiful pieces, much to the awe and pleasure of the judges as well as the audience. The WMS reached its peak under the leadership of Grace Lalkhawngaihi and was continued under the guidance of Sadhvi Krishnamoorthy, the most recent president. Referred to as 'Mother' and 'Compulsive Hugger' by her troupe, Sadhvi's warmth seemed to work its charm as the society members came together to shine not just individually, but more importantly as a group. The president for the coming year is Gitana Singh, who also promises to be as brilliant as her predecessors. When asked what her expectations for the year are, she said, "As president, what I hope for is to see every member giving in their best to the society. For the past two years WMS has become such a big part of me and we've had the best times together. I think that it is most important for everyone to enjoy being a part of the society, to feel a sense of belonging and a willingness to give in their best to it. I expect us to carry on this spirit of oneness and competition, friendship and most importantly, of music which we have upheld for all these years."
Over the past one year, the list of laurels won by LSR for their Western Music Society has increased. Their annual piece was called 'Nightingale sang in Berkeley Square', a beautifully haunting jazz piece that took the crowd by storm. They won the first prize at the Stephen's, Miranda, Venky, Gargi, CBS and Kirori Mal fests as well as LSR's own Tarang. Apart from this, WMS came second at the IIT Delhi fest and third at the IP, JMC and the BITS Pilani-Goa fest. All of this, along with a special mention at the Kamala Nehru Fest. Many of the solos, duets and trios were also critically acclaimed. As for LSR's rivals, Shruti Sharma had a point to add, "The toughest competition we have is from Venky and JMC. But some amount of competition is fun, it motivates you to do better, and you also learn a lot by observing and appreciating the other groups that perform."
The competitive piece received a lot of praise as it was a unique and difficult composition to master. "This song was an exciting step for WMS LSR, towards the blue notes of jazz. I think it was a brave and brilliant idea put forth by our president, Sadhvi. As a team, both of us were happy about working on a versatile and well arranged song that gave all our members with different vocal ranges a fair shot at performing. As a singer, I enjoyed the challenge of the meter and key changing at certain parts of the song!" Said Shibani Budhraja, last year's secretary of the WMS.
The strength of LSR's Western Music Society lies in the bond they share with each other. The members work diligently, sometimes late into the day, just to perfect one paragraph, or the way a particular set of 'OOHS' sound. "I love the fact that we're like a family. I personally believe that the group dynamics is brilliant. Everyone has got each other's back. We may be a bit of a motley crew, as no two people are the same, nor do they have the same taste. But we all complement each other," says Tanushree Sharma, a soon to be third year student who dreads the day she will have to leave the society for good.
Sure enough, the effect of watching these nightingales on stage is simply breath-taking as they stun you with their four part harmonies and soothing solos. There is definitely some 'magic abroad in the air' as you drift along with the music, mesmerized by their lilting tunes.
That certain night, the night we met,

There was magic abroad in the air.

There were angels dining at the Ritz,

And a nightingale sang, in Berkeley Square.