While many wait for the monsoon season to arrive, mucky roads and gloomy weather have the capacity to put off people. Convenience and comfort are topmost priorities, but so are the fashion choices! Whether you are petite, skinny, or curvy, Auburn Umbrella is here to help you with comfortable yet fashionable tips this monsoon. Make your clothes evoke the haute look in this wet season.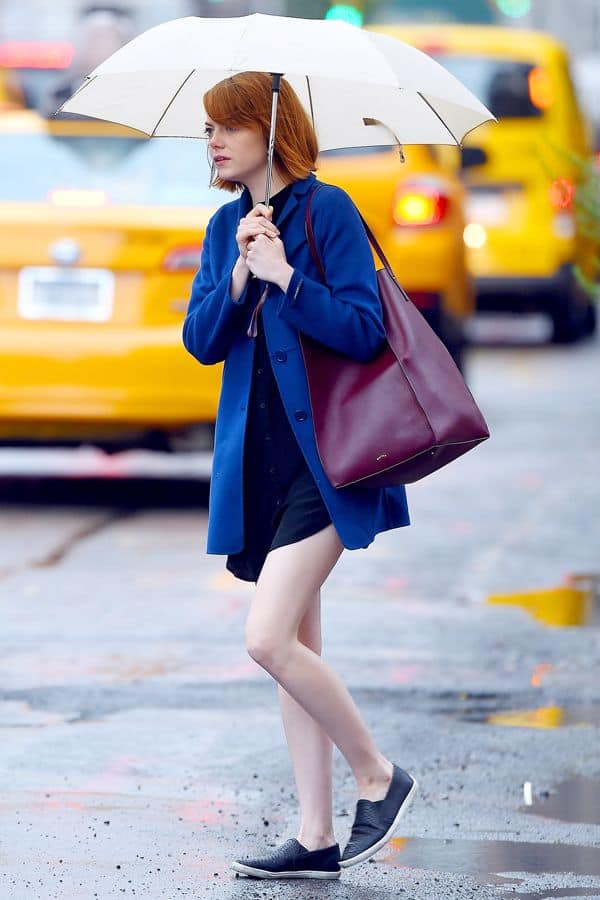 Choosing the correct fabric
Fabrics that dry easily and resist mud and water stains are always recommended: cotton, polyester, lycra, and nylon. Get printed fabrics that have beautiful patterns and give a sunny look on a rainy day.  Make sure you're not wearing fabrics that would stick to your skin or become see-through after a downpour. Denims are a thumbs-down as they take an impossibly long time to dry.
Length of your clothes
Avoid full-length trousers and opt for cute shorts, culottes, or capris. Long skirts should be saved for another season to avoid a fashion faux pas. Monsoons are more about miniskirts, hot pants, and sleeveless tops with different neck styles. Whatever shape you may be, minis and midis are always defining and in vogue.
Colour, colour, which colour?
Jazz up your wardrobe with pop colours. Bright shades of indigo, green, and blue are good choices for the monsoon. Peppy palettes of purple, lemon yellow, fuchsia pink, orange, and white are the best picks for this season. Darker shades of black and brown make for ideal formal wear. However, wearing pristine white in the monsoon is certainly not a good idea as white clothes tend to get transparent when wet and also get stained easily.
Accessorising and add-ons
Bright neon-coloured waterproof bags, raincoats, boots, hats, and belts deserve a shout-out in this difficult season. Beautiful bracelets, earrings, and neck pieces made of plastic, rubber, and acrylic make for trendy picks. Metal and leather should be avoided during the rainy season. Get sassy covers for your gadgets that are waterproof.
Shoes speak louder than words!
Just grab bright and vibrant colourful pairs of flip flops matching your dress. Chuck all those leather and velvet shoes and switch to the easy rubber flip-flops. Avoid wearing heels in the rainy season. Wear blacks and browns on formal occasions. Otherwise, Crocs are a smart choice and so are gumboots. They are firm and rain-friendly and ensure you can walk confidently on those slippery wet floors.
Take care of your hair and skin
Stylise your hair with high ponytails and fishtail braids. Opt for new haircuts and try dyeing some strands with spicy shades. Don't forget to oil your hair and moisturise your skin. You don't want a smudgy and spoilt look, hence a no to heavy make-up.
Image Credits: EzyShine, MyVishal
Radhika Boruah
[email protected]