Read on to find out how the simple, yet versatile bindi can be styled to ooze up your traditional and fusion attires.
As Indo fusion moves along its perpetual crest, pay heed to the humble bindi. Even the Government recognises its importance, they kept bindis outside the gambit of the Goods and Services Tax while still taxing sanitary pads. But the writer digresses. In addition to its affordability, the bindi brings with it a great deal. The small adhesive adorned on the centre of one's forehead can grant a real sense of completeness to a look.
Keep it classy with a monochromatic bindi 
For those averse to flashy fashion trends, a monochromatic bindi is a subtle yet effectual accessory. A simple black bindi is compatible with anything and will never feel out-of-place. Bindis offer a vast spectrum of colours and sizes, giving the wearer immense flexibility and space to make it unique to their preferences and sense of style.
Appropriate white people and look Coachella ready with an intricate design of bejewelled, sparkly bindis etched on to your forehead.
Featured Image Credits: Etsy
Channel your Indian TV Saas Bahu Vamps
If you truly wish to stand out, take a page from Indian TV's iconic Saas Bahu vamps' fashion journals. Drop the simple, circular bindi and befriend the linear or paisley bindis.  No, the writer is not joking or suggesting this as a gimmick. The morally ambiguous characters always have the best sense of fashion.  The writer was jesting about the one preceding this, though.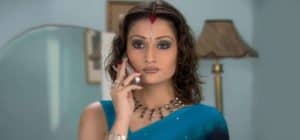 Featured Image Credits: Screencap
As feminism in India is strengthening and taking hold of its indigenous roots, adorning traditional attire is often an effort to acknowledge one's background. Thus, some consider the visual of a bindi to be an insignia of femininity as well as contemporary indigenous feminism.
Featured Image Credits: Instagram of Priya Malik
Prisha Saxena