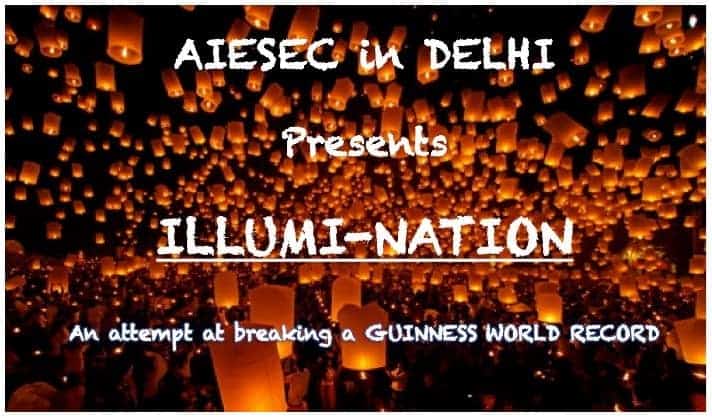 Illumi-Nation is an event being organized by AIESEC in Delhi (Delhi University + Delhi IIT) in association with Tinker bell productions in order to show its support against child labor, towards peace promotion and a green Diwali. This is an initiative by AIESEC in Delhi to show our support against the thousands of children working in darkness during the production of fireworks, loosing eyesight, and being affected by the explosives & loosing lives.
Illumi-Nation is an attempt to break the Guinness World Record by lighting 5000 sky lanterns on the same day at the same time by the youth and creating a positive impact in the society. The event is being held in New Delhi on 2nd of November 2012 from 5pm to 8pm. There will be an opening act by well known musicians and an exhibition of our diverse Indian food culture. A crowd of 7000 people is being expected by this event.
Illumi-Nation is a Pre-event for The Sky Lantern Project which will be held on 21st December as an initiative by AIESEC INDIA with 23 states participating in this Guinness World Record breaking event by releasing more than 10,000 sky lanterns on the same day at the same time projecting unity amidst the living diversity of the country.