Stand-up Comedy is the new "in" thing on YouTube and its sister channels and Indian stand-up acts wouldn't  disappoint you, for sure.
India, or for that matter Urban India, is slowly awakening to a newer, fresher, and unusual yet creative professions; despite the rant of becoming a doctor and an engineer continues to perpetuate. Spreading awareness is an important thing but doing that through wit and humour makes it all the more scintillating and this is where stand-up comes into play. University of Delhi has been a host to many of the artists, be it Abish Mathew, Biswa Kalyan Rath or Kenny Sebastian, or the very recent case of Zakir Khan gracing the SRCC Youth Conference intrigues us into finding out the best stand-up acts of India. Therefore, we bring to you our own set of favourite comedians who, really sometimes make more sense than our politicians:
DISCLAIMER: We know there are some great stand-up comedians missing from this list, but in our defence, we couldn't add them all!
Daniel Fernandes: If you are looking for dark humour, wit, and sarcasm mixed together with thought-provoking satire that's based on social issues, Daniel Fernandes is the man for you. His takes on feminism, Syria, Trump Elections, rape, and all will give you chills, apart from making you laugh. Also, he never shies away from speaking his mind out on controversial topics –  watch his stand-up on why he hates Fawad Khan, for this example.
Abhishek Upmanyu: For lighthearted and light-minded comedy, Abhishek Upmanyu is the typical, Delhi boy-next-door for you who thinks faster than he speaks, and his body language and tone will win your heart all over. His famous stand-ups on the likes of Delhi, Mumbai, comebacks, and insults will get you rolling on the floor laughing.
Zakir Khan: With his every show getting a standing ovation, you should definitely stand up for Zakir Khan because he just stands out in all his performances. The "sakht launda"  has his own cult of fan following and his hilarious take on a Delhi girl, failing in an exam, airport rules, etc, will make you wanting more of him. Also, he once shared a video for his father online which made all of us cry with tears in the same way he makes us laugh with tears. This man can do it all.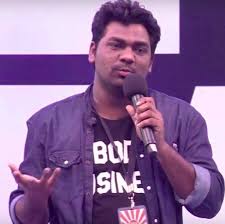 Abish Mathew: "The Son of Abish" show is a major hit online and his sense of humour and adorable smile never fail to amuse us. He became extremely famous from the AIB Video, A Man's Best Friend and yes, whenever you watch this guy, he will surely leave you in splits.
Aditi Mittal: The stand-up comedy world is also, like any other world, male–dominated, but this woman outshines them all. Her witty take on sanitary napkins , bra shopping, and breasts will get you hooked onto her for life. She uses humour to raise awareness about issues in a way that will make you think twice.
6.  Kanan Gill and Biswa Kalyan Rath: Yes, these guys perform separately and their individual performances rock the entire comedy industry but after watching their Pretentious Movie Reviews (You are living under a rock if you haven't watched these), it is very difficult for us to separate the two of them. Both have their own charm and make sure to watch all of their videos, including their individual ones.
Kenny Sebastian:"Chai -Time" with this guy is just the best time of our days and yes, Kenny's understanding of middle-class restaurants, middle-class Dads, North Indians in America, will make people fall off from their chairs. His live shows, as well as his videos, are an equal pleasure.
Sorabh Pant:When he left the East India Comedy channel, we all were heartbroken but this man never disappoints us. You can watch 'The Rant of the Pant' on his individual channel as well. He is one of the coolest stand-up comedians in India and one of the most intelligent and politically-aware as well.
9. Vir Das: He is our very own blue-eyed boy whose shows in America are a major hit (online and offline) and he is one of the most cherished comedians of India. If you still haven't watched his videos, you are missing out on all the fun.
This was our list of favourite Indian Stand-up comedians. If we missed any of your favourites, please tell us in the comments below!
Feature Image Credits: news18.com
Oorja Tapan