How does it feel to see those familiar lawns, walls, canteens and classrooms of your college on silver screens? Perhaps, it is not something new for a Delhi University kid, or is it?
In contemporary times, nothing has been left un-bollywoodised. From ambitious "apna time aayega" (my time will come) posters on the walls of our rooms to those trying-to-be-quirky truck drivers bearing "has mat pagli pyaar ho jaega" (don't smile or I'll fall in love with you) at the back of their vehicles to finding equal proportions in meme culture, the Bollywood fever has swept over the entire array. In such a culture, how could premier institutions like Delhi University be left untouched by bolly-baptization?
Heaving with overwhelm, jittering with anxiety not without a truckload of anticipation – this is a common description of any first-year student, especially those who make it to the "coveted" corners of DU. The Bollywood bandwagon has seeped so much into the college culture that even these nervous "facchas" are treated to Bollywood-themed fresher's parties followed by the onslaught of Instagram reels documenting the whole event.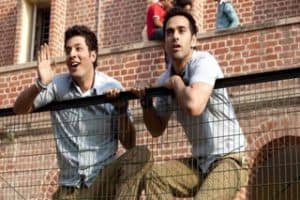 A scene from the film Fukrey (2013) shot in Miranda House,  Image Credits: Celluloid: The Film Society of Miranda House
Why is the college trope so famous?
There seems to be a sort of symbiotic relationship between college and Bollywood, which has of course, found its nexus in the glamorisation of college life. From college friendships to college romance, the trope of college life has been reproduced to an extent that now it seems oversaturated. Yet, it is one of the most popular genres, earning a bloating box-office collection everytime. From Kuch Kuch Hota Hai (1998) to Rang De Basanti (2006) to 3 Idiots (2009) and more recently Chhichhore (2019), the list goes on. The changing demography of the target audience has allowed film industries to extract their careers out of our nostalgia. We often yearn for the bygone days and certainly, the college years occupy one of our fondest memories. After all, for many of us, college is the time when we experience most of our 'firsts' – crushes, heartbreaks, fights, and countless other memorable experiences. And through these films, these eccentricities of college life we get to experience again.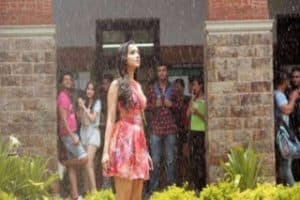 A scene from the film Half Girlfriend (2017) shot in St. Stephen's College,   Image Credits: The Times of India
The Politics of "Privileged" Colleges
We all love and undeniably feel a sense of pride seeing the cameo of our colleges in our most cherished films. But why do some DU colleges make it to the screens while some do not? The Hinduite Jordan and the Stephanian Heer became the college Romeo-Juliet romance. The "itni si chutney me do samose khau mai?" (how do I eat two samosas in so little chutney) graffiti on Hindu canteen's wall from the same film Rockstar, Fukrey in Miranda House, Dil Dosti Etc in Hindu College, DevD and Band Baja Baarat in Hansraj and Half Girlfriend in St. Stephen's College. The Ananya-Panday-effect of these North Campus colleges is very evident in the Bollywood milieu of nepotism. For filmmakers, shooting in DU mainly means shooting in the North Campus. The number of shoots in North Campus particularly has also increased in the past few years, from 3-4 shoots to 10-12 shoots per year, possibly because of easy permissions. These shoots in North Campus catch the fancy of many students and thus continue to uphold the existing hierarchy of colleges in Delhi University. According to an interview conducted by The Times of India in 2018, Ravi Sarin who was a part of the shooting of the film 'Mom' at SRCC said, "It's the architecture of the colleges of North Campus that attracts filmmakers." The charming red brick buildings of North Campus colleges are a major attraction to the filmmakers. It provides a sense of historicity to the location, an amalgamation of the new and the old, past and present.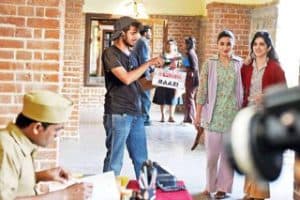 A scene from the film  Raazi (2018) shot in Miranda House,  Image Credits: The Times of India
The Fallacy of Masti ki Paathshala
Common expectation told to us by elders and popular media often fosters a fallacy premised upon hopes for better days in college, better life, better opportunities and better friendships. The American threesome of sex, drugs and rock n' roll is replicated in Bollywood as maal, masti and mohabbat (substance, fun and love). However, this alliteration fails to capture the unglorified realities of DU- hectic timetables, strict professors, boring lectures, stifling competition and everyday metro hustles. Colleges in Bollywood are nothing less than any theme park that has to sustain the assortment of fake paraphernalia of coolness, fun, richness, style and other cliched fancy adjectives. Only if college life was a Dharma Production you can expect to find an SRK-type boyfriend or a hot professor like in Main Hoon Na. In reality, there will be no falling in love with violin playing in the background, wind brushing past the hair and romantic slow-mo moments. Neither, in fact hardly our yaad-karegi-duniya-tera-mera-afsana (the world will remember our story) kind of friendships will permeate our nine-to-five reality. Will we even care for our lost Rancho inhabiting some far-off part of Ladakh after 10 years? In times when everyone seems to be guilty of repeatedly postponing Goa plans until it dies on a vine, it's a bitter realisation that we all shall be made Arjuns uttering Moshi Moshi to a Japanese client on a road trip to Spain with friends (if at all the trip transcends the precincts of our plannings).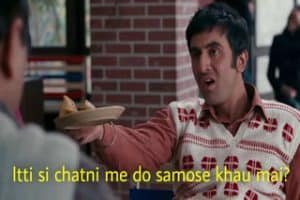 A dialogue turned meme from the film Rockstar (2011),  Image Credits: Indian Meme Template
Hmm, so we can say, our much loved DU (and colleges in general) have had its own multiplicity of moments – as a main character, as a side-kick, as a decorative prop (like female characters in KJO films), as a misrepresented character (like LGBTQ characters in Bollywood) and sometimes as an anti-hero (like those in Anurag Kashyap's films). But in everything, maybe DU is our Geet from Jab We Met who does not shy away from claiming "Mai apni favourite hoon"
Feature Image Credits: ScoopWhoop
Read Also: Bollywood Imitates Life and Vice-Versa
Samra Iqbal