The abrogation of Articles 370 and 35A has invited a series of memes on social media which are downright insensitive and distasteful. Here's analysing how much humor is too much, or is it really humour?
Ever since the Articles 370 and 35A have been abrogated, this piece of news has become a hot subject of discussions and debates in canteens, dinner tables, and possibly every social media platform. 
The decision taken on 5th August, which strips Jammu and Kashmir of the special status granted to it decades back, and bifurcates the state into two Union Territories has invited mixed response from the people around the country, as some call the decision a historic step towards unification of the country and an attempt to resolve the long ongoing Kashmir issue, while others find it unconstitutional and a violation of rights of Kashmiris. 
As different opinions and responses found their way to social media, so did the memes. Meme culture in the last couple of years has taken social media by the storm, and it is here to stay. 
For every recent happening in the country and beyond, there are memes to lighten up the mood and give a humorous angle to the situation. Thus, it was only obvious to expect memes flooding our timelines after the abrogation of Articles 370 and 35A, and they did.
While a lot of memes were decent enough to be shrugged away after a laugh, there were double the ones that were really problematic and made us question- how much is too much?

From people going to buy land in Kashmir to showing their desire to marry "beautiful" and "white" Kashmiri girls, the memes turned insensitive to the people of Kashmir whom the decision impacted in the first place. 
"The memes on Kashmiri girls and land are not helping or creating humour out of this situation. It is only alienating the people of that area furthermore. It is creating a very stifling environment," said a student from Jammu and Kashmir. 
These meme-makers and sharers turned Kashmir into a mere plot of land which they can now buy and girls from Kashmir as a mere commodity they think they supposedly have rights over. The complete lack of empathy from their end reflected their deeply embedded patriarchy and opportunism.
While it's completely okay to take sides in a decision and celebrate where one feels necessary, it's not okay to derive sick and problematic humor at the cost of respect and dignity of the people who are still coming to terms with the change in their lives, and are very much the part of your own nation.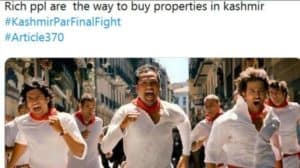 Section 144 was imposed on Jammu and Kashmir on the night of 5th August to prevent any threat to security. While Ladakh and some parts of Jammu and Kashmir have started gaining their connectivity to the world back, several districts of Kashmir are still without internet connection. The meme-makers were/are making these distasteful jokes on people who didn't have access to read and comment upon them. 
It's extremely saddening to imagine a situation where our people from Kashmir will find these insensitive memes, welcoming them as they log in after days. 
"When the sentiments are so charged and atmosphere is apparently full of fear and distrust. Is it really helping the situation if you make the people of that land unwanted instead of being welcomed?" said one student. 
"The environment feels very occupationist. The way memes are being made on women and land. Trivializing the matter like that makes it seem like everyone cares not about the people But the land and girls," added another. 
Humour is meant to convert a serious situation into something light to make people see something funny and positive in every situation. But, under this veil of "it's just a joke", can we conveniently forget the context sitting on our privileged positions? 
Is it okay to defend every insensitive remark as a joke without paying any heed to how the subjects of your memes will possibly feel amidst the tense situation?
It's important for these people making careless remarks to register that the place and people they are joking about, thoughtlessly have been living a life of acute distress for over seven decades now. Sounds of bullets and witnessing dead bodies are normal of the lives of these people. Generations after generations, all they pray each day is for one more peaceful day to survive. While you and I live our lives joyously because of our privilege of being born into a state where constant terror attacks don't haunt our lives, the Kashmiris are under a constant threat.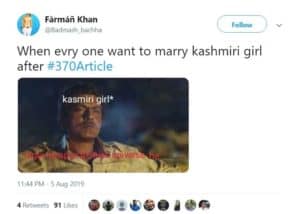 It's okay to celebrate the decision. It's okay to put forward your opposition. Any debate is healthy to democracy. But what's certainly not okay is to make our fellow countrymen feel like a commodity and their homeland, property or plot of land. 
It becomes imperative for us as people who "actually" love the heaven that Kashmir is and the people who reside in the valley, to be thoughtful and sensitive of their emotions and make them feel the sense of belonging to the country and fellow citizens. 
In our haste to earn a few likes and comments, let's not forget that humanity trumps everything. 
Feature Image Credits: Twitter
Shreya Agrawal