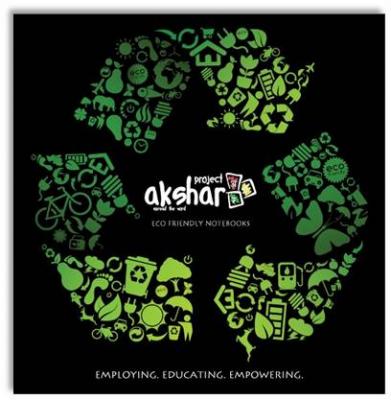 Project Akshar, an initiative by Enactus S.S.C.B.S., was started in the year 2011 with an aim to provide employment opportunities to those in need, help the environment and provide affordable education to the under privileged. It envisions creating extremely affordable, environment –friendly notebooks, by recycling and reusing paper that is discarded as waste by corporate houses, RWA's and other organisations to create spiral bound eco-friendly notebooks which are produced by a group of:
hearing impaired individuals
victims of drug abuse,trafficking and abandonment
All sale proceeds from these notebooks go entirely to them.
For every 3 notebooks sold,1 notebook is sent to a child in need.
To commemorate 2 years of Project Akshar's completion, ENACTUS S.S.C.B.S. is organizing 'Akshar Day' on 24th March, 2013 by organizing paper collection drives throughout Delhi and NCR, reaching out to thousands of people in the National Capital Region and collecting a momentous amount of paper.
Enactus is an international not-for-profit organisation that works with business leaders and university students across the globe to develop outreach projects that improve the quality of life of people in need.
At Enactus Shaheed Sukhdev College of Business Studies (S.S.C.B.S.) (University of Delhi), we have been engaged in using business models to empower those in need, since our inception in January 2009.
Applications are open for students from all colleges to volunteer and participate in these collection drives.

Come, be a part of this celebration!

For any information, please contact: 
Vice President,Partnerships
Krishni Miglani
Hurry application deadline closes soon.