Some 13 years ago, when Prabhat was eating at Nirulas, one of his favorite food joints at North Campus, University of Delhi, little would've he known that he would end up marketing films of Bollywood big shots like Amitabh Bachchan, Aamir Khan and Yash Raj Chopra. Prabhat Choudhary is the founder cum face behind Spice, a Bollywood PR agency responsible for successful marketing of movies like 3 Idiots, Bhaag Milkha Bhaag, Gangs of Wasseypur, Dhoom, Zindagi na Milegi Dobaara and recently released PK. Spice has carved a place for itself in the education curriculum in India with IIM Bangalore formulating a special case study on this film promotion and publicity firm.
Prabhat Choudhary, an English (Honors) graduate from Hans Raj College (Class of 2001) recently got into a conversation with DU Beat. Here are certain excerpts from our conversation with the alumnus of Hans Raj College and DPS, Mathura Road, Delhi:
---
Iresh: So Prabhat would you like to tell us something about your days in college and Delhi University as a student.
Prabhat: University has had a profound impact on me in many ways. The kind of environment that the University and campus gave is very special. It was not just about learning or the courses you do. It was not only about friends and the people you meet, but was about being in that space. It was relaxed and outside influences did not reach you inside the campus as it was itself the self-sustaining ecosystem.
Cliched things, nukkads and the happening student life will be cherished forever as we have a lot of memories there. Nobody can ever forget the time spent in and around Kamla Nagar Market. In our times, Nirulas was also famous.
---
Iresh: How did the University culture affect you both personally and professionally?
Prabhat: It gave me some kind of global perspective. University wasn't immune to what happened at societal or global level. It always had students who have strong social conscious. They read newspapers, social affairs influence them and they have a voice. There is also little bit of political awareness which is missing in students of Bombay or other cities. Delhi is such a city where people voice their opinions and it is important for student community as well to have that kind of approach. This lays foundation for them to be aware citizens of the country and it helps professionally too because prospects are better.
---
Iresh: On the academic front what is that one thing at DU, which is different from other educational institutions across the country?
Prabhat: There was difference of focus on academics. When you do general courses (not technical or professional courses) like Humanities for simple graduation, one generally tends to take things for granted but in the University, that was not the case. Students took some sort of pride in the course like English Honours and in the marks that they got. This was one difference between Delhi University and other places.
---
Iresh: While in college, did you ever think about Bollywood or marketing in general?
Prabhat: In DU, people generally don't think about profession that you will join, or the money you will make. This is something that is not on their horizon and it was neither on mine. Time spent at University was not an intermediary phase or stop gap arrangement. Over there for those three years, I was not desperate to get out of it. Those years were aimless and were like a discovery for us where University was our only destination. So I had never thought of marketing or movies.
---
Iresh: So what stopped you for pursuing further studies in Delhi and encouraged you to move to Bombay?
Prabhat: I knew if I linger in Delhi or DU, it would be four or five more years. The next step then would have been Law Faculty or Arts Faculty. It was a dangerous thing to do (laughs). Nothing was pre planned but I had to give myself a different environment and a more work-oriented place. Therefore, I didn't sit for any competitive exams and didn't study further to prepare for FMS. All I knew was that I had to get out of there and try something in TV because movies were not on my horizon then.
---
Iresh: Go on and tell something about your journey thereon.
Prabhat: After graduation, I came to Bombay and I started working with Star in 2002-2003. I had not thought of getting into Bollywood Marketing or marketing in general. I was able to discover later that Marketing interests me as an exercise. After a year of working with Star, I wanted to come out of my job because day in and day out, we were doing the same thing. It was one of the temporary feelings where I desired to be ejected out of one system and get into something else.
Before taking my next job, I thought of trying Bollywood Marketing. I had no background in movies, media or PR. I gave it a shot by approaching Yash Raj and for some strange reason they took us on for Hum Tum. That was the first movie we did and hence Spice was born.
---
Iresh: Tell us something about your operations at Spice?
Prabhat: Spice includes sub projects like Spice Bhasha and Spice One. While Spice Bhasha is about taking movies to small towns and connecting Bollywood to the heartland of India where culture and audience's mindset is different, Spice One involves handling of largest bouquet of celebrities in India like Aditya Roy Kapur, Sidharth Malhotra and Shraddha Kapoor in terms of imaging and persona.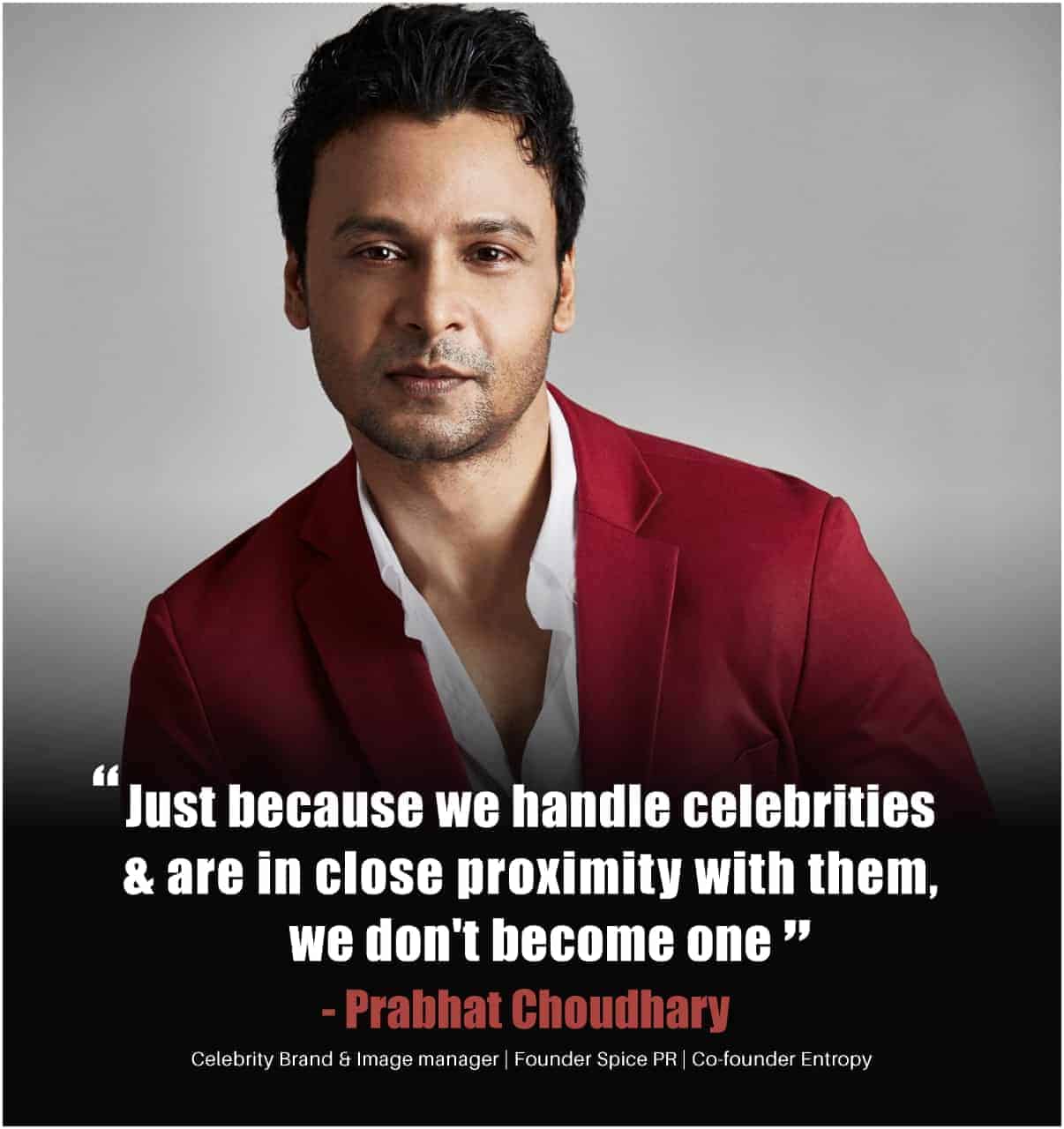 ---
Iresh: You have worked for both TV and movies. How does marketing differ for both?
Prabhat: There is fundamental difference between the two. While marketing is similar for both, but the difference is the product life. If you are marketing a serial, the average self life ranges from 6 months to 2 years. On the other hand, a movie gives you three weeks at maximum and primarily just three days of the weekend. Therefore, you market to fill those three days and its either you succeed or do not succeed.
---
Iresh: Do you see publicity or promotional marketing as part of the educational curriculum in India?
Prabhat: It is interesting to note that this has already started, Iresh. IIM Bangalore has formulated a case study on film promotion and publicity efforts of Spice. The is the first time that management gurus have invested in gaining insights in this segment of marketing. The case study highlights the fact that positioning decision and communication strategy not only helps to attract pre-release audience attention but is also used to put a film together and not just sell it.
---
Iresh: How important is the role of youth when we talk about your business as a PR agency?
Prabhat: It is very important. We have been making this attempt towards the University and other colleges lately. We recognize the fact that primary and flagship consumers are the youth. They give the movie its bread and butter. They are the first audience as they watch it in the opening weekend itself. It is also important what opinion they form because they spread the word. Entertainment and celebrity marketing becoming more relevant slowly and slowly in India and it is and will be driven by the young sector more or less.
---
To know more about him and Spice, visit: www.spicepr.net 
https://www.scoopwhoop.com/entertainment/prabhat-choudhary-tells-us-what-makes-him-bollywood-s-most-influential-publicist/