On 5th October UGC released a letter that suggested the universities to adopt new model Psychology syllabi at B.A/B.Sc, M.A/M.Sc and PhD levels.
The letter sent and addressed to vice-chancellors of all universities said, "It had been noticed that Psychology, as taught in institutions of higher learning was neither keeping pace with the recent developments in the discipline nor fulfilling the societal needs. The prevalent course contents commonly taught in the classroom were not rooted in the national ethos. UGC, therefore, constituted a Committee of Experts to look into different aspects of teaching and research in Psychology besides drawing upon the considerable work that is underway for the purposes of developing vibrant model syllabi for different levels."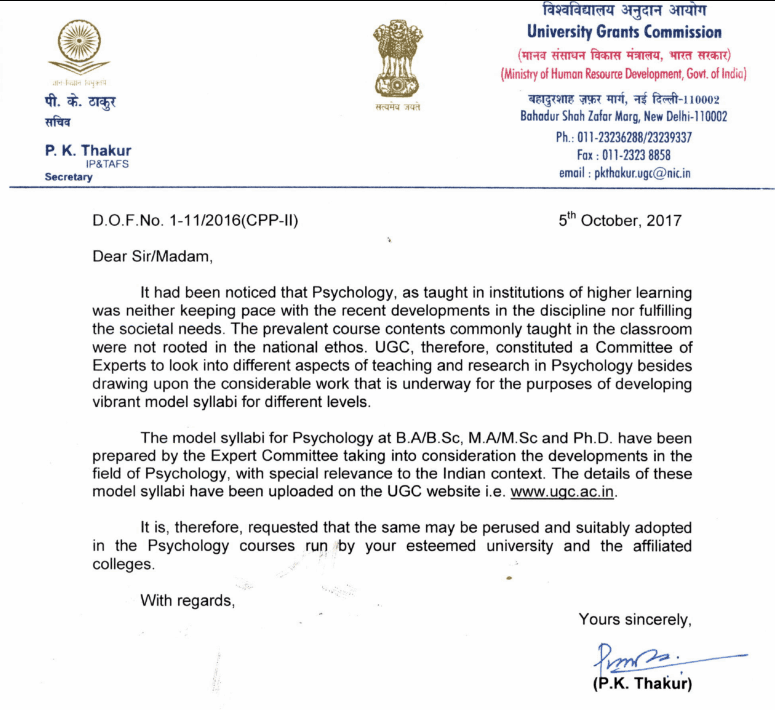 Further, it added that the new curriculum made by the Expert Committee took the latest developments in the field of Psychology into consideration and new syllabus has given special relevance to the Indian context of discipline.
The brief letter did not mention who the members of the Expert Committee are which raises many questions. Such as who are the committee members, what were the selection criteria, and on what basis did they conclude that the prevailing course content is unsatisfactory.
While talking to DU Beat, Dr Gayatri Arunkuma, a Psychology professor at Indraprastha College for Women, denied the claims of UGC and asserted that "The current CBCS syllabus has a lot of Indian perspective on psychology in both theory and practical papers. We also refer to several research publications and textbooks focussing on the Indian perspective in Psychology Honors course in DU. So, our curriculum is, in fact, rooted in national ethos as we are teaching a new updated in 2014 syllabus."
She further added, "UGC being an important institution could perhaps initiate a more democratic exercise on Psychology syllabus revision, where all psychology faculties can email their views n issues."
The commission has asked affiliated colleges and universities go through the new syllabus, which is available on the official website, and introduce it in the current course. However, as of now, there is no new syllabus published on the UGC website. We tried to contact Mr.P.K. Thakur, Secretary and Financial Assistant of UGC who also wrote the letter on the commission's behalf, but all our calls to his office remained unattended.
Picture Credits: The University Grants Commission
Niharika Dabral
[email protected]