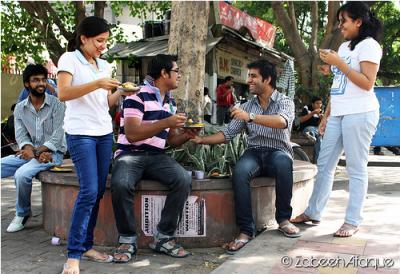 Known as the cultural hub of Delhi, Mandi House contains some of the finest art institutions in India- National School of Drama, Kathak Kendra, Bharatiya Kala Kendra, FICCI, Russian Culture Centre to name a few. It boasts of being alma mater to some very successful artists in India and is a budding ground for many more to come.
Because of the centrality of its location and the huge crowd it attracts, a large number of food joints have come up in the past and continue to do so now. Let's look at some popular joints here-
1)      Shri Ram Centre Canteen
The canteen serves lip smacking Chinese food at affordable rates. It is a favorite among students of Shri Ram Theatre and other students in the vicinity. Hugely popular is the spicy singapuri chowmein and refreshing beverages like sweet lassi.
2)      Bengali market
You've probably been living under a rock if you haven't tasted the chhole bhature of Bengali Market. This place boasts of being one of the oldest markets in Delhi, and one of the most modern too. Nathu's, Bengali Sweets, Costa Coffee are some of its famous eateries. While Nathu's are affordable to a student's pocket, Costa Coffee is slightly expensive but gives a good ambience and experience, which makes it worth.
3)      NSD Canteen
If you have cravings for home made food instead, you can always go to the NSD Canteen that serves delicious Indian Thali , rajma chawal, kadi chawal , etc. The canteen however, is not that spacious and will not give you the desired ambience of quietness as it is always in a hustle bustle.
Corrigendum: This image has been clicked by Zabeeh Afaque for HT City.

 All rights reserved by Zabeeh_India
DU Beat apologizes for the erstwhile inappropriate use of the image. We regret the inconvenience caused.