The University of Delhi (DU) has been named among 19 other institutes for Institutions of Eminence (IoE) status in a list released by the University Grants Commission(UGC) on Friday, 2nd August 2019.  The University is ranked 474 in the world rankings (QS 2020) which is one of the highest rankings among central universities. The UGC has recommended 10 public and 10 private institutes for the Institutions of Eminence  status.
The Institutions of Eminence scheme is aimed at developing 20 world class institutions which would put India on the global education map. The move allows greater academic, administrative and financial autonomy to the university. DU has consistently been among top rankings with. The University was ranked eighth this year.
The UGC, in its 542nd meeting held on 2nd August 2019 has considered the reports of the Empowered Expert Committee (EEC) appointed by the Government under the Chairmanship of Shri N Gopalaswami has recommended 15 public institutions and 15 private institutions to be considered for Institutions of Eminence. Since the scheme has only provided for 10 public and 10 private institutions, the UGC has examined the list of 15 public and 15 private institutions using 'transparent and verifiable criteria', according to the Ministry of Human Resource Development (MHRD).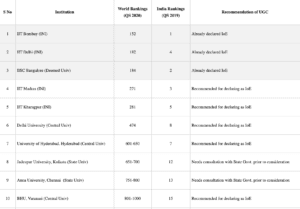 Institutes which are given IoE status from public category includes IIT Bombay, IIT Delhi, IISC Bangalore, IIT Madras, IIT Kharagpur, University of Hyderabad, and BHU and private institutes which are recommended for IoE status include BITS Pilani, Manipal Academy of Higher Education, Jio Institute (Reliance Foundation, Maharashtra) ,O.P JINDAL University and Shiv Nadar University.
Last year, the Ministry had granted Institution of Eminence status to six educational institutions. It included three public and three private institutes including Reliance Foundation's yet-to-be-built Jio Institute, which had created a wide debate in the country. Gopalaswami, former Chief Election Commissioner who headed the expert panel which initially identified the list of IoEs commented, "We considered two types [of institutions], those who are already ranked well and those which are potential institutions. We might have felt something has potential, but government may feel something else, they may have felt that if an institution is not ranked at all, it cannot be considered. It is entirely justified."
Benefits of the IoE Tag for the University
According to the Institutions of Eminence scheme, "These selected institutions are proposed to have greater autonomy compared to other higher education institutions. They will be exempted from approvals of government or UGC for academic collaborations with foreign institutions, except institutions in MEA and MHA list of negative countries. Once identified, the target for Institutions of Eminence will be to break into top 100 bracket in one internationally reputed ranking framework in 10 years." Due to this prestigious status DU will get INR 1,000 crore from MHRD to achieve world- class status.
The decisions brought cheers among the students and academicians in the University. Welcoming this move, Stephen Mathew, a second-year student of St. Stephens College said, "I feel proud to be a student of the University. Personally, I feel safe in the university space per. It has also allowed me to grow academically and otherwise."
Chhavi Bahmba, a fresher from Daulat Ram College commented, "I believe the University deserves it for the level of diversity and exposure offered. It offers a great undergraduate courses, however this status can help to work upon on few things like placement, infrastructure, etc."
However, the UGC has denied the tag to some prominent institutions like Azim Premji University, Ashoka University, Indian Institute of Human Settlements etc. since they have not been placed in any global or national rankings. These recommendations are to be submitted to the MHRD for conferring the final status.
Feature Image Credits: DU Beat Archives
Sriya Rane