DUSU (Delhi University Students" Union) along with ABVP(Akhil Bharatiya Vidhya Parishad) is organising 'Dilli Vishvavidyala Dahi Handi Pratiyogita'on Janmashtami i.e 23 August, at VC lawns, North Campus in order to promote cultural identities and traditions of India in the University.
This will be one of the first festivals which will be collectively celebrated across the University as participation in it by all colleges has been made mandatory. An official Press Release was given out by the ABVP earlier this week.
The event will begin at 11 in the morning after the Krishna Aarti rendition by Ilahi, the Indian music society of Daulat Ram College. The event will be inaugurated by DUSU president, Shakti Singhal.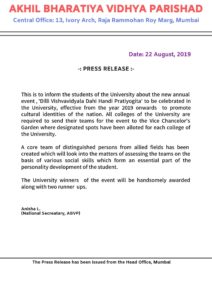 The VC lawns will be separated into different staging areas for teams from throughout the varsity. A special panel will monitor the various colleges on their skills like teamwork, efficiency and handi breaking sound to give away the cash prizes. Cash prizes are as follows:
First prize: INR 10,000 with an all-expense paid trip to Mathura
Second prize:  INR 7500 with free white makkhan (butter)
Third prize: INR 5000 with an idol of Lord Krishna
The player that breaks the Dahi-Handi from the winning team will be called Makhan-Lal and will be given an additional rupees1101.
The President of ABVP, said "This will become a tradition of the university. People from all across India will come to see this remarkable manifestation of Janmashtami. We shall request student unions and faculty to organise this event in other major universities across the country."
While some students found this idea to be leaning towards a communal tint, others, however, were joyous to have this new event as an annual ritual of the University. Various colleges have already formed special and dedicated societies which will prepare for the competition all year round so as to put their best foot forward when the event approaches.
Anshuman Sharma, third-year B.Com Hons student, Hansraj College quotes, "We are very excited to take this idea ahead and have already selected students for the Dahi Handi Competition. We have also started to formulate this into a proper active society because the event requires lots of perseverance and physical training."
Students who got admission in the University through the Sports Quota are being actively recruited by the Dahi Handi Societies of various colleges.
Shrijan Banerji, a second-year student, Hindu College, says "We were notified very suddenly of this event. Hence we spent past few days training our athletes in how to form pyramids, how to break the Handi in one ago and how to shout 'Jai Shri Ram' very loudly. Due to a shortage of time, we have selected people through sports quota and recommendations but in future, we will find a new and democratic way of screening and selecting students for society."
This event will mark a historic day in the culture propagated in university. Preparations by DUSU and students of various society have been going on in great proportions. This may receive one of the biggest turnouts of students so far in any college event, it is said to beat the crowd witness at college fests with bands like The Local Train.
Disclaimer: Bazinga is our weekly coloumn of almost believable fake news. It is not to be accepted, but only appreciated.
Featured Image Credits- Rediff
Amrashree Mishra
Chhavi Bahmba