Students from the Institute of Home Economics, with the support of Akhil Bharatiya Vidyarthi Parishad (ABVP), engaged in a protest against the increase in the fees of the college.
On Monday, 1st September 2019, the students of the Institute of Home Economics led by ABVP protested against the increase in the fees of the college. ABVP placed several demands before the college administration including reduction in the fees, improvement in the quality of food in college canteen, renovation of college washrooms, and re-opening of the closed book shop inside college premises.
As per the latest fee structure, the fees for many courses have been increased by INR 8,000-10,000 from last year. Last year, the fee for courses such as B.Sc (Honours) Home Science and Microbiology was INR 19,675. It has now been increased to INR 28,890. Similarly, the fee for B.Sc (Honours) Food Technology was INR 29,895 last year which has now been increased to INR 39,995.
According to the students, the fee structure of the college always seemed inadequate to them as it has always been more expensive than other colleges affiliated to the University of Delhi (DU), but they had accepted it as the courses offered by the institute are not widespread and not a lot of colleges offer the same courses. However, this immediate increase in the fees seemed unnecessary and requires change along with other issues of the college.
According to Jyoti Chaudhary, ABVP's State Executive Member and former Joint-Secretary of Delhi University Students' Union (DUSU)  "The fees of various colleges of Delhi University are constantly increasing, it's a matter of concern for the common students. DUSU and ABVP had protested against the fee hike in colleges and hostels in the past as well, following which they were assured by the Delhi University Administration that their issue would be resolved but there has been no result so far. The way the fees are being increased by more than 50% in colleges, is not justified in any way. Colleges will continue to struggle against the fee hike."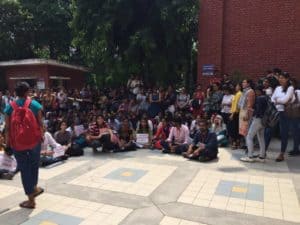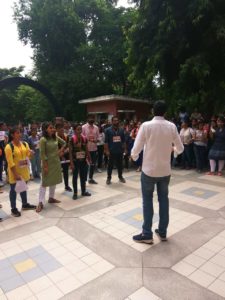 Pratik Gupta, ABVP's Institute of Home Economics Unit Chairperson said, "The fee of Institute of Home Economics is twice or thrice the fees of that of other colleges affiliated to the University of Delhi. Moreover, the college administration has imposed a financial burden on the students in several other ways adding to the common problems of these students. Fees inequality is unfortunate, considering that the condition of the washrooms and canteen of the college is not worth the additional fees."
According to sources, hundreds of students participated in this protest against the authorities, but no one from the college administration tried to listen and understand the problems of the students. ABVP will soon conduct a protest on a large scale against the college administration in this context.
Feature Image Credits: Shiksha
Avni Dhawan