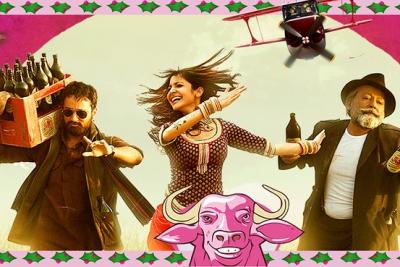 Set in a hamlet called 'Mandola Gaaon', district Rohtak- Haryana; the movie Matru Ki Bijlee Ka Mandola is a satirical take on many socio- economic issues that plague rural and urban India equally. Going in with first impressions, one must take note that the promos for this movie are a tad bit misleading. Take a look at any promo or poster and the movie comes across as just another Bollywood flick that would lack any intellectual appeal. We were glad to find out first hand that the movie is much, much more than that. Vishal Bharadwaj, the man behind movies like Omkara, Maqbool etc has tried hard and in most ways succeeded in amalgamating conventional Bollywood style of narrative with much more serious and far reaching issues.
The major theme all through the movie is one which many villages in India currently face and we town- dwellers are blissfully ignorant of. Harry Mandola (Pankaj Kapoor) wants the State Government led by Chaudhari Devi (Shabana Azmi) to declare Mandola Gaaon as a Special Economic Zone for his own profit motives. Chaudhari Devi also wants to get Harry's daughter Bijlee (Anushka Sharma) married to her rather moronic son Baadal (Arya Babbar). Hukkum Singh Matru played by Imran Khan is Harry Mandola's driver for namesake. In reality, one notices how Matru means much more than a lowly servant to Harry and his daughter. It gets better as Matru rises up as the leader of the farmers in their protest against Harry. Scene after scene, more layers of Matru's personality emerge and if it weren't for Imran's shoddy acting, the role of Matru could have solely taken the spotlight.
From the very beginning, one simply falls prey to the captivating performance of Pankaj Kapoor who plays the role of industrialist Harry Mandola, after whom Mandola Gaaon is named. The very timbre of his voice, his slurry speech, his antics and his choicest words of abuse will keep one captivated till the very end. Bijlee Mandola, Harry's spoilt, eccentric daughter who does everything over the top, BUT being a Bollywood female character, has an unnaturally soft heart for her role. Anushka Sharma seemed to be cut out for this role, she was stern when she had to be, loving when she had to be and filmy when she wasn't being stern or loving. Shabanma Azmi gave a very strong and relatable performance for her role as a corrupt politician in power. Her devious dialogues, expressions, and well thought out strategies cement her role as the antagonist and one nods in agreement to her similarity to real life political figures. Matru's friends, one of whom is a Eunuch and the other a blind boy, played notable supporting roles. Both have done a very commendable job, especially the blind boy who performs in the most brazen way and sends one on a laughing spree.
The script makes many intellectual jokes and satirical comments and does not always rely on slapstick. The element of Communism comes through very clearly and is an eye-opener for many. The music is another thing that makes sailing from scene to scene or switches of mood easier. Well of course, there is a lot of the usual Bollywood thumka's but many songs have an underlying African beat and sometimes even a hint of the good western music comes through.
Getting to the things that weren't so easy to go down. Many scenes have the typical unrealistic Bollywood touch to them. In addition, the climax is a rather slow build up and it is a little over done. These two elements might have been put in place to draw the average Indian cinema lover into the film. The comedy in the script while in many places is crafted well, in others is just unnecessary. The actors also fail to sport a decent enough Haryanvi accent, something that goes against the bucolic feel of the movie.
All in all the good, bad, and Imran Khan negate each other out and what is left is a movie that deals with serious issues at ease and is a ray of hope for good scripting in Bollywood. Also, do look out for the pink buffalo, all you Matrus who plan to watch this package of infotainment!
Matru Ki Bijlee Ka Mandola deserves 3 out of 5 beats!
Anugrah Gopinath
[email protected]