On 13th January 2020, the students of Hansraj College, University of Delhi (DU) stopped peaceful protests from happening while a student in the protest alleged violence by a faculty member.
 On 13th January, the students of Hansraj College had given a call for a collective reading of the Preamble of the Indian Constitution and Swami Vivekananda's historic Chicago Speech. However, as soon as a few of the students had gathered, holding the Indian flag in their hands, the Principal, Dr Rama, came with a few faculty members and started snatching the flag from their hands, taking away their mobile phones and dispersing the crowd.
"I reached LP at 11 am with the National Flag and posters. Dr Rama, The Principal, was already present there with few other teachers and admin staff and was forcing students to vacate the space. Then she rushed towards me and my friend who was holding the other end of the Flag, and tried to snatch the flag. A student also tried to assault us and take away the Flag," said a student, who wishes not to be named fearing action from the college authorities.
Also, Gaurav Kumar, Physical Education, Professor at Hansraj College, allegedly physically assaulted a third year student due to his participation in the protest.
"Sir told me that he will drag me out of the hostel and beat me up and no one will be able to do anything. Now the problem is, I cannot go anywhere, even the college is adamant on proving me wrong. I've filed a written complaint with Rama Ma'am," the victim told DU Beat.
He added, "Gaurav had a grudge against me as a few days ago, I had shared a screenshot of a post where our professor was using a fake news to attack an actress."
However, the Assistant Professor denied the claim. The Professor said, "I had confronted him regarding the post, but didn't touch him. He is lying."
The student has demanded that the administration of the Hansraj College file an FIR against the teacher, and suspend him until an investigation takes place. Students have decided to hold protests if action is not taken against him.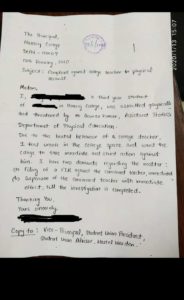 The original complaint sent to the College administration by the victim.
While all of this was happening, a group of students organised a protest supporting the Citizenship (Amendment) Act (CAA) in College ground. The administration was lax in reaching out to stop the gathering and was able to stop the pro-CAA gathering, not before videos were made and slogans and chants raised.
Feature Image Credits: Anonymous