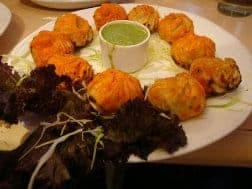 What: QDs…love @first bite!
Where: Momo Street, Kamla Nagar, Delhi 11007
There are many things about college life that one would like to reminisce in his or her ripe old age, and probably one of those precious things that will definitely come to mind would be tandoori momos.
Located bang in the centre of Momo Street, Kamla Nagar, QDs has the warmth of a café, juxtaposed with the uber chic crowd that defines this place. With a relaxed ambience, it sets the tone for a good, well deserved luncheon. QDs is different from the other eateries lining this street; wall paper depicting fine food, popular cult musicians, and eclectic quotes, it makes for an interesting cultural point, in the true University sense. Its small, but we don't mind.
More importantly, the food. It is delightful, to say the least. The crux of their menu though are the the very famous tandoori momos. Tandoori, as we all know is anything cooked in a tandoor, which gives it the very characteristic and intrinsic flavor. These are the usual momos cooked in a tandoor just before serving. And the result, ah, we like it! There is just something special which the tandoor does to these simple steamed dumplings, and coupled with garlic sauce, they soon fall into that category of irresistible treats. And now, try saying no to that! Impossible isn't it?
For Rs 60 a plate for the veg tandoori momos, it's a winner."Veg" tandoori momos, yeah. This is perhaps every wannabe-carnivore-but-not-quite there personality's delight. And of course, the chicken momos for a mere 10 extra rupees a plate is a sure fire success too.QDs serves both Chinese and Indian cuisines, but we recommend the former over the latter. And tandoori momos, more than anything else! This is the one and only place where you get them, and infact it seems QDs came up with this unique gastronomic invention following north campus's infatuation with momos. Only this time it ain't infatuation anymore, its love at first bite, literally!