Four students of the University were allegedly beaten up the bouncers of a cafe in the Hudson Lane which lead to 200 students turning up in solidarity for the victims. The said victims have been discharged after due treatment; an investigation regarding the accused is still underway.
On Wednesday, 23rd October 2019, a Police Control Room (PCR) van received a call at 8.30 p.m. regarding a tussle that had broken out in a cafe at north-west Delhi's Guru Tegh Bahadur (GTB) Nagar. In one of the many cafes that line the streets of GTB Nagar or Hudson Lane, four Delhi University students were injured after they were hit allegedly by bouncers over the volume of music.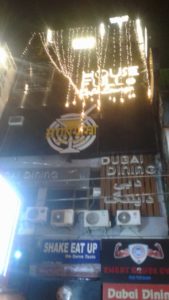 The 'Housefull Cafe Lounge' where the incident took place. Image credits: Prakash Ranjan
Deputy Commissioner of Police (North-West) Vijayanta Arya, made a statement on Thursday morning regarding this incident and said that no arrests have been made so far. The recent developments are that an investigation is still underway, pertaining to the incident.
The incident happened when a 24-year-old student, of the University of Delhi's Law Faculty, Samar Singh, was celebrating his birthday with 30-35 friends at Housefull Cafe Lounge. The group had asked the staff to increase the volume of music and to change the song, to which they disagreed. An argument broke out between the two groups which turned into a physical fight. This is when the bouncers intervened. The students claimed that they were attacked by the bouncers outside the location and beaten up badly.
Ms. Arya said, in conversation with The Hindu, that the four injured students were taken to a nearby hospital where they were discharged after treatment.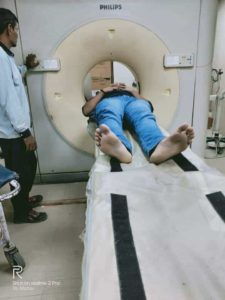 Victim's treatment underway. Image Credits: Prakash Ranjan
Victim Samar Singh had called the police and submitted a complaint at GTB Nagar police station after which a case under the Sections 323 (punishment for voluntarily causing hurt), 341 (punishment for wrongful restraint) and 34 (Common intention) of the Indian Penal Code have been registered.
"Two bouncers have been identified but are absconding. Teams are working to nab them." Ms. Arya added.
After the incident, around two-hundred students turned up at Kingsway Camp to protest and express solidarity at the incident. Images of the victims as well as messages calling for media persons in the vicinity to join the protest, were doing the rounds by the end of the night on Wednesday. In conversation with a national daily, ex-Delhi University Students' Union (DUSU) President Shakti Singh alleged, "Police did not cooperate in the matter and were shielding the accused instead." The students only left after the police assured them that proper action would be taken in the case. The GTB crossing had been occupied for more than three hours.
The police also notified that a case had also been filed against the bar owner for not carrying out verification of his employees.
Feature Image Credits: Prakash Ranjan
Bhavya Pandey