I am a student of literature and I happened to be at the Jaipur Literature Festival 2013. People are quick to comment that since I'm a literature student I'll obviously attend this fest. However, neither do all literature students attend the festival, nor do literature students form a sizeable majority of the audience. It would be a naïve and myopic approach to take and let's just say that a love for reading is reason enough to be there.
The Jaipur Literature Festival 2013 is the biggest literature festival in the region of Asia- Pacific and every year it brings together the brightest minds in the field of art, on one platform.
Day 1-
Day 1 began with an introduction by the festival director William Dalrymple, when he noted how the festival has grown over the years. Citing an example, he mentioned that the first time they'd organized the fest in 2005, only 14 people had turned up, out of which 10 were lost Japanese tourists looking for Amer fort. Today, the fest attracts a massive crowd of over a lac.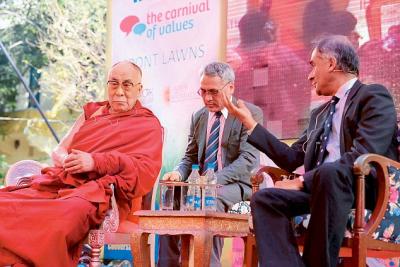 Dalrymple's introduction was followed by a keynote address by legendary writer Mahashweta Devi, titled "O to live again". Her magnetic aura left an impact on all. His Holiness Dalai Lama held a session titled "Kinships of Faiths:Finding the middle way", in which he very cheekily admitted that even he found religious stories boring in his childhood and it was only later when he understood Budhdhist Philosophy, did he find peace. He maintains that he is a pupil of the Nalanda tradition of teaching and owes a lot to India in this respect. Another highlight of the day was Javed Akhtar talking of Ismat Chughtai and Annie, two stalwarts of Urdu literature. He strongly urged the audience to learn Urdu and explore its literature.
Day 2-
The highly acclaimed book "The Origins of sex" by Faramerz Dabhoivala was discussed by the author and William Dalrymple at the Google Mughal Tent. Fara, as everyone fondly calls him, was an instant hit with the crowd, his pleasing demeanour worked its charm on everyone and the audience listened enraptured as he narrated the central themes of his book. "Sex and Sensibility", a session taken by acclaimed lyricist Prasoon Joshi and actress cum activist Shabana Azmi, was also quite a crowd puller. In the light of the recent gang rape case and Honey Singh's obscene lyrics, they discussed the role of cinema in inculcating perverted ideologies. They cited that examples found in Indian mythology such as Ram being the ideal husband and Sita being the silent sufferer are still engrained in the Indian psyche. In a culture where the abuses are hurled not at the person but the person's mother and sister, we need some serious re-thinking.
The Day 1 and Day 2 were truly enriching and offered great insights.