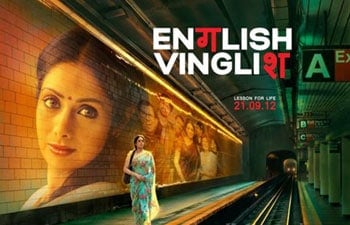 The movie English Vinglish surely marks a stellar comeback of veteran actress Sridevi. The plot revolves around an issue that may not have achieved a great magnitude in the world, but still bothers many nevertheless. Living in a world, where speaking is English is a "necessity" than show off , the movie displays the effect of that "necessity" on a non- English speaking person.
The movie unfolds by characterizing Shashi (Sridevi). A quintessential middle class woman, whose world revolves around her children and husband. She alone, looks after the house, listens to her children and husband nag her about not knowing English, and that silently eats up her self confidence and respect.
She is then invited to Manhattan, to assist in the wedding of her sister's daughter. The house of Manu (the sister) is more comforting, where Manu and Radha (Shashi's niece) are seen as strong pillars of emotional support. After a particularly humiliating incident in a restaurant in Manhattan that was largely attributed to her not knowing English, Shashi decided to join English speaking classes, without telling anyone.
The classes become a source of happiness for Shashi, simultaneously boosting her self confidence. A relatively unimportant sub plot of a love story between a classmate and Shashi also enters the play here. In the end, it is finally shown that Shashi earns her certificate of English speaking , with distinction, and gives a speech in English in her niece's wedding, thereby re-inculcating the lost respect in the minds of her children and husband.
The movie very correctly depicts the mental state of an average middle class married lady, and how little things in life assume great importance. For example, Shashi had decided to make marriage sweets herself, in her niece's marriage.  In an unfortunate turn of events, she drops and spoils those sweets. And that was the day of her final exam in English. Shashi decided to make the sweets again rather than go to the English class.
Also, the movie ends on a very good note, that when you love yourself , everything around you becomes sweeter, and when you are not able to embrace your identity , everything that is associated with you becomes aversive. This is shown in Shashi's behavior, when in the airlines, on her way back to India, she deliberately asks for a Hindi newspaper, and chooses not to read an English one, thereby accepting her identity and being comfortable in it.