Donald J. Trump is going to be the United States of America's 45th President. We'll give you a moment to let that sink in.
Amidst all chaos and an unexpected turn of events, the former (really, former?) business tycoon managed to sail the Republican boat to the shore of victory. And while this was certainly the least expected beginning to 9th November for most Americans, they and the rest of the world are relying on their best bets as coping mechanisms on Twitter.
Here's a peek into how the social media exploded in the last twelve hours celebrating anxiety and confusion.
Let's begin on a light note- 
Can Obama not just turn the telly up really loud and pretend he didn't hear the doorbell? #ElectionNight

— Mark Simpson (@MarkSimpsonHUFC) November 9, 2016
Six seasons of screaming NNNNOOOOO at your TV during Game of Thrones were intended to prepare you for this day, America — Rohan (@mojorojo) November 9, 2016
Hoping for this#ElectionNight pic.twitter.com/o6hsB1BBkq

— All India Bakchod (@AllIndiaBakchod) November 9, 2016
everytime a state goes to trump they should fire a cannon just like they do in the hunger games so i know which state is dead to me — don't mattie (@seulgom) November 9, 2016
[David Bowie & Prince die]

[Brexit passes, Vine is shut down]

The World: "please… let us rest…"

2016: "…just one more thing"

— Ricky Montgomery (@rohmontgomery) November 9, 2016
wen u realize u should have let the south secede pic.twitter.com/EjpodxJmiG — ransfud (@RNSFRD) November 9, 2016
@ florida pic.twitter.com/0K4Y8HAol2 — Tibor (@itsmetibor) November 9, 2016

There are some we know are voicing our worst fears-
I'm taking tonight to grieve for minorities, women, immigrants, muslims & the LGBTQ community but tomorrow I'm waking up ready to fight. — Jesse Tyler Ferguson (@jessetyler) November 9, 2016
Biggest loser tonight is the human race. Cause climate change is gone as an issue in Trump America.

THIS IS A HUGE DEAL.#ElectionNight

— Adam McKay (@GhostPanther) November 9, 2016
I'm going to kiss my sleeping son and go to bed. Tomorrow I'll keep trying to raise him right in a world that just got a whole lot scarier. — Josh Charles (@MrJoshCharles) November 9, 2016
What I've learned so far tonight: America is WAAAAAAAAY more sexist than it is racist. And it's pretty fucking racist. #ElectionNight — Patton Oswalt (@pattonoswalt) November 9, 2016
Better get my kids birth certificates laminated so the can wear them around their necks every day…

— Jennifer (@jpauline032004) November 9, 2016
Dear Muslims, Immigrants, Women, Disabled, and All People of Color,

I love you – boldly and proudly. We will endure. We will not break.

— Shaun King (@ShaunKing) November 9, 2016
We, here at DU Beat, have had our share of apprehension as we believe no nation shall be left unaffected with this huge turn in power. Here's a glimpse of what the team had to say-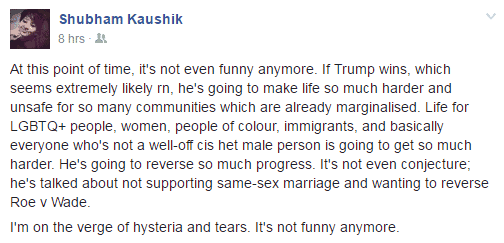 How did you deal with the ground-breaking news today? Let us know in the comments section!
Featured Image Credits: the guardian.com
Arushi Pathak
[email protected]