The second festival of Eid, also known as Eid-ul-Fitr, falls in the holy month of Ramzan. The festival of Id-ul-Fitr in Delhi is celebrated with much fun and gaiety. Muslims fast throughout the month of Ramzan and the last day of this month marks the celebration of Eid. Ramzan teaches people self-control and Eid instructs them to let go. People indulge in shopping during this festive season and present gifts to the near and dear ones.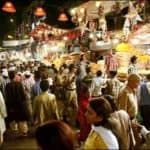 On this day, worshippers visit mosques to offer Eid prayers. After praying, people embrace and greet each other. On this day, a special sweet dish 'sewai' is prepared. Melas are also held on this festive occasion, where people dressed in their special clothing go and enjoy the merry-go-rounds, swings, songs, music and good food.
The day before Eid al-Fitr families typically donate food such as rice, barley or dates, to the less well off. The donation is known as "sadaqah al-fitr" or charity of fast breaking. Eid itself marks the first day of the Islamic calendar's month of Shawwal.
In New Delhi , many Muslims flock to  the biggest and hugely popular mosque 'Jama Masjid' to offer Eid prayers.
Interesting fact: In New York City's iconic Empire State Building was lit in green in honor of Eid-al-Fitr from October 12-14, 2007