<![CDATA[Don't go on the name, they say. Well, this saying stands true when you talk about 'Dhaba', a north Indian Mughlai cuisine restaurant located in west Delhi. Close to major shopping and cinema complexes including Shoppers and waves, this restaurant attracts a whole bunch of visitors including videshis.
Ambience
This desi-themed, literally dhaba styled restaurant will take you onto a journey to suburban food eateries in India. As soon as you enter, you get the feel of the rural food eatery you once visited when on a trip to Punjab. Adding to that, the restaurant also features a truck! Yes, a truck inside the premises to grip you into the exact same rural-cultured theme, the designers of this restaurant have so strategically carved out. [caption id="attachment_36474" align="aligncenter" width="168"]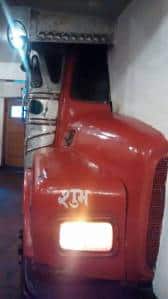 The truck inside the premises of 'Dhaba' at Rajouri Garden.[/caption]
Delicacies
You must have already guessed the main delicacy of this place. Yes! The butter chicken we all so love. You can also try 'chicken khurchan', a special Mughlai delicacy they offer. For the vegetarians, the dal makhni is the dish to be ordered. But wait, what about the starters? Don't miss out on the roasted and afghani chicken or the paneer tikka.
Pocket Bump
Well, to be honest, eating at this restaurant will not dig a hole in your pocket and the food costs are at same average 4 star restaurant level. If you do plan to visit the range of restaurants at Rajouri Garden, all of them come at the same average pricing of thousand bucks for two.
Rating
The place deserves 4 stars from me.
****
Brij Pahwa
[email protected]
Image credits: zomato.com,
361degreeshospitality.wordpress.com
]]>