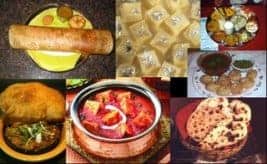 North Indian Cuisine
As you hop down from the bus/auto and enter the swanky South Extension market, you will see a tiny, nondescript dhaba very close to the bus stand. This is the quintessential Delhi dhaba, with little space to sit, mouth watering food and dirt cheap prices all rolled into one.
Try the palak paneer if it's vegetarian de rigueur for you. The naan is soft and good and the dal makhni scores decently as well. However I wouldn't recommend the shahi paneer to those who are shy of food floating in oil.
Good service, reasonable rates and awesome food, this is precisely why one should come here.
The only thing you need to be careful about is hygiene, but then that is something you must overlook at a dhaba! The food can be a little too hot for the taste buds, however it is still worth it. Ask for extra helpings of pickles at this place, they are simply out of this world! In fact, they don't even mind serving an extra helping of the main dishes without charging an extra penny. Bring on the food, we say!
On the whole, this dhaba is excellent value for money and an important stop over for Delhi foodies!
My rating: 4/5
South Indian Cuisine
dian food, but never have enough money on them to go to a Sagar, Saravana Bhavan or the likes, this is the place to be. This small dhaba located opposite the Jantar Mantar is one place that you simply cannot miss, crammed as it is at almost every hour of the day by hungry office goers out for a snack. You have to place your order with an authoritative man who in turn yells them out most incoherently to the cook. The cook, blessed with almost superhuman powers of comprehension, then proceeds to whip up anything you may have cared to order, from dosas to utthapams, in a matter of five minutes.
Idlis, vadas and a variety of other snacks, including a dessert called rava kesari, are also available and at a nominal price. The prices of the items range from Rs 15 for an agreeable quantity of upma to Rs 30 for atleast 15 different varieties of dosas. My personal favourite is the onion rava masala dosa. The portions of the idlis, vadas and dosas are enough to make it a meal in itself. Excellently prepared Sambar and coconut chuntey flow in copious amounts as there is no limit to the number of refills you may ask for. The place is also surprisingly hygienic for a dhaba, the premises is clean and the cutlery is washed thoroughly right in front of your eyes. The food is undoubtedly fresh and the number of regular patrons there suggest very few gastronomical hazards.
The only drawback is that there is no place to sit. There are a few stools randomly placed in front of the snacks centre but they are almost always occupied. People generally eat inside their cars and others improvise by sitting on other people's cars. But there is ample space to stand and eat, which a majority of people can be seen doing. They also serve water there but for the more finicky customers mineral water can be purchased from the shop next door. In any case there is always an ice cream cart parked right outside doing brisk business.
My rating 3.5/5
Western Indian cuisine
I have lost count of the number of times I have read an article on India and come across the phrase "unity in diversity" or something along these lines. They say that India is a celebration of opposites living in harmony. A classic paradigm of this is Gujarati cuisine. Most Gujarati dishes are sweet, spicy and salty at the same time; a perfect balance between the vagrant tastes. Though most non-vegetarians aren't a big fan of Gujarati food, vegetarian foodies often patronize this cuisine.
Most people often mislead by the name head towards Gujarat Bhavan to sample this cuisine. They return sorely disappointed because not only is the building in shackles but the food isn't much to write home about either .In fact Gujarati food is served only two hours before dinner here! If you are on the look out to sample authentic and scrumptious Gujarati food, I suggest you give Gujarat Bhavan a skip as it is functions more as a guesthouse than a restaurant. Instead, treat your palette to Gujarati thalis at Rajdhani restaurant in CP instead.
A Gujarati meal starts with a specially prepared snack called Farsan accompanied with Chhas, a curd based drink very similar to the North Indian Lassi. Some of the popular Gujrati snacks here are Dhokla and Khandvi . The breads are different too.
Try the Thepla, a dried paraunthi that can be eaten even weeks after it has been prepared. My personal favourite is the Bajra ki Roti with Jaggery and lots of desi ghee. The Khichdi, here is delicious as well. Dessert favourites here are Aamras (mango extract) and Shrikhand (a milk based dessert with a slightly tangy taste).
It's even popular among the college crowd because not only is the food delicious and cheap, its unlimited. Yes, you read it right. One can have unlimited helpings for a meagre 200 rupees per thali. Moreover, the food here is served with a genuine warmth and love that is uniquely Indian.
Eastern Indian Cuisine
Annapurna Sweets

The first thing you associate with Bengali food is probably Rosogulla. For the more erudite their knowledge might extend to shandesh, mishti doi, kachagola, chomchom or even kheer kadam. Can you see the patter emerging? An intricate part of their cuisine; sweets are also the most popular Bengali fare outside the boundaries of the state. This is evident from the number of sweet shops that have cropped up throughout the length and breadth of India, doing thriving business and popularizing the legend of the Bengali sweet tooth. One of the largest and most popular sweet chop chains has got to be Annapurna Sweets. Patronized by Bengalis and non Bengalis alike the place does brisk business as it dispenses mouthwatering sweets. The house favourites are the wide variety of shandesh and kachagola while the rosogolla and mishti doi see brisk business. Customers also swear by the salty snacks available there, especially the crispy shingara stuffed with diced rather than mashed potato in true Bengali style.
The authentic Bengali mishti and delectable snacks ought not to be missed by any true foodie or sweet aficionado.
Branches:
1463, Chandni Chowk
13, DDA Market 4, CR Park
CSC, Market 2, CR Park
My Rating: 4/5
Contributed by Rachita Murali, Devika Dutt and Shraddha Gupta