Meet the band, When Chai Met Toast , that embodies happiness and performs it in their music.
Kartik: The band name is a very creative fusion of Indian roots meeting western elements, so what kind of musicians or bands from India and abroad influence your music?
Ashwin: Actually, a lot of them! I mean, there is a lot of inspiration from English folk, but we are experimenting with a lot of other stuff as well, which includes English and European folk.
Achyuth: Not really folk, more like pop.
Ashwin: We do not want to really define ourselves into a category or genre, as such.
Achyuth: Some of the artists that we have been listening include The 1975, Coldplay; Coldplay is an all-time favourite.
Ashwin: There is Sufjan Stevens as well. There is a bunch of artists we listen to, and are inspired by.
Kartik:What qualifies as good music for you?
Achyuth: Anything that sounds good, I guess.
Ashwin: Very difficult question!
Achyuth: Anything that is true, actually. Anything that comes from the people, whatever genre it is. Something that comes from within.
Ashwin: I will be very honest. More than what qualifies as good music to me, what my ears hear as good music is what I like. For instance, you cannot really 'name' good music or music that you like. You are not very fond of something at one point, and other times you love something. You cannot really classify or clarify what good music is, and we have not really given it a thought, so I think there is no generic or specific category of good music.
Achyuth: For me, it is anything that has some soul to it, in whatever way. It can be any artist, but as long as there is passion, there is good music.
Kartik: Your songs are multilingual. Notably, the transitions in the languages are very smooth in the songs, which make the composition very cohesive. How do you think the audience reacts to this aspect of your music?
Achyuth: First of all, we are glad you think so!
Ashwin: We have heard positive reviews till now, thankfully. Nobody has as yet, thrown anything negative at us. We try not to force the elements into a song just because the song has to carry out something which is multilingual or some meaning that has to be conveyed. We try to keep whatever we write as what it is.
Achyuth: The fact that we all speak multiple languages helps. So, we are not really restricting ourselves. If we want to convey something through a song in Tamil, we have the freedom to do that, because Ashwin knows how to speak Tamil. It gives us many options, as a band.
Kartik:I was just listening to your latest song, "Nee aara", and I loved it! This is your first Malayalam single, please tell your listeners about the song and what it means.
Achyuth: Thank you very much! It starts off with self-introspection, and then it moves into the ideas of new beginnings, in various metaphorical forms.
Ashwin: In one sentence, it is like understanding your mistakes and then trying to rectify them, and finding what is wrong with you. It's about finding the new you, to some extent.
Kartik: Do you guys have any just-the-band or personal rituals to do before performing on stage?
Ashwin: We definitely pump each other up!
Achyuth: There is like a band-huddle before the performance.
Kartik: How many shows have you done in the last one year? Which show has been the best in terms of audience and the derivative artistic gratification?
Achyuth: Around 80-90 shows. All of them were great shows.
Ashwin: As for the latter part of the question, I think both of us might have differing answers, let's see.
Achyuth: Weekender Pune 2018 was a great one.
Ashwin: Oh, then it is the same. We played our 70s set for the second time at Weekender Pune.
Achyuth: We were still learning our parts for that, but we managed to do well, I guess.
Ashwin: Narayan on violin, Prashant on bass, along with trumpets, we had a proper ball of a time. It was great to see five thousand people in front of you, while Joe Satriani was playing on the other stage. The sound was amazing, thanks to Yogi for mixing that day, Guru did an amazing job with lights as well. It was a crazy good day for us, altogether.
Kartik: Can you describe what do you feel when you're performing on stage and a massive crowd jams to your songs along with you?
Achyuth: I think that's what we live for.
Ashwin: Yes, we dance with them. And live the moment, that's it.
Kartik: So how would you describe this feeling in one word?
Ashwin: D-E-D, DED, a very millennial term. (laughs)
Kartik: What are your views on failures and/or criticism? And what do you think stays with the audience, the artist or the art?
Achyuth: The art definitely.
Ashwin: I think both. Like when the artist feels the art is when the people feel the art.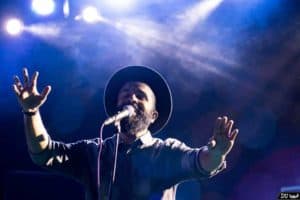 Kartik: All the band members have had professional training in Indian classical music. In times of rap and hip-hop, and pop rock, where do you think Indian Classical music is leading to?
Ashwin: It's leading to world music, buddy. Bands like Agam, and Shadow and Light and so many other independent artists are working on Carnatic and Hindustani music. There are a lot of jazz singers who are blending Carnatic music with jazz. Carnatic music is in a completely different scale altogether than what we think is Indie.
Achyuth: There is immense potential in the genre. It's already massive.
Ashwin: Totally, I mean a Carnatic music show in Singapore selling more than 2500 tickets that is the substance of the genre.
Kartik: In a lot of your music videos, there is a running metaphor of creative and artistic blockade, and coming out of it. One of these videos that has stayed with me is that of the song "Believe". What are your views on creative expression and its ability to transgress social obligations or expectations?
Ashwin: That's too tough for me, man! (laughs)
I have been doing music for ten years now (professionally), and I have been learning from almost twenty years. It is definitely a very difficult task coming from a state like Kerala, to build up something what we are trying to do. There is always this hurdle, always this blockade that hits you, and you don't know what you have to do. You have to find out the right door to move across. It's not like you sign with a label and you are there. It gets very difficult when you are independent, when you are doing everything by yourself. Within the band, all of us have certain roles, and it becomes this division of creative people, coming together and doing so much together. Everybody's struggle to get out there speaks for freedom of creativity. We have also come from different social backgrounds. My father worked in a bank, and later retired as an architect. So, we have to tackle all that when we are doing something like curating music on a full-time basis.
Even though our parents and families support us in whatever ways they can, there's always this element of social obligation that comes to the fore.
Achyuth: Our listeners also relate to it. (the struggle)
Ashwin: At the end of the day, whatever you are doing, you need to be happy with it.
Kartik: Which conveniently brings me to my next question. When Chai Met Toast identifies itself with 'The Happy Project', it focuses on creating music that makes the listener happy. How do you think it impacts your credibility and influence as a band in a Rockstar-world obsessed with romanticising sadness?
Ashwin: Funny, funny part! (laughs)
See once you are broken, hope for one day that you will be happy. Life is all about it, is it not? I mean if there are songwriters who are writing about this state of being broken, we are trying to get out of it.
Achyuth: I think you can call our music being on the 'positive' line. We are looking at the brighter side, even when we are talking about a break-up, for instance.
Ashwin: There are a lot of other factors that get into you in the form of anxiety and depression, now that is entirely different. There is another thing. Generally, in music, we do not wish to depend on emotions too much, right? Every emotion has its own set of feelings that it gives out. But think of this: somebody for instance, thought that she would die of cancer, but having worked hard, she comes out of it. She has definitely channelised her positivity in that fight. She discovered herself, and fought it back. So, it's always greener on the other side, we just have to look at the green from our side, and just go for it.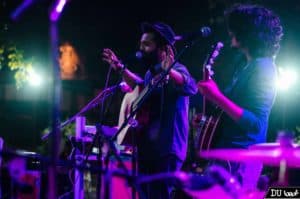 Kartik: In an interview you talked about a school in Kashmir (Haji Public School) wherein your song "Firefly" is now sung by the students in assembly. What was your reaction to this discovery and how great of an achievement do you think it is for you?
Achyuth: I think, things like these make what we do, all the more worthwhile. I cannot give it a word, for sure, but the spontaneous reaction to the news was: immensely gratifying. To see our art reaching out and being accepted and loved by people who are like miles away. There have been multiple schools across the country like Patna and Kerala, where students have sung our songs. This is another part that makes our music meaningful. There are no age barriers, our listeners' ages range from six-year-olds to seventy-year-olds.
Kartik: Please tell us about your upcoming album, tours, and shows.
Ashwin: We are working on the album. Pre-production is going on, song-writing is going on. We are trying to figure out when we are going to release it. We are also trying out different things, and experimenting with new elements and instruments.
Achyuth: We do not know, as yet, when exactly it will be ready, but it is definitely on the cards.
Ashwin: One thing that we know for sure is that we are all very stoked and looking forward to the fun that the process is going to be.
Achyuth: As for the shows, we will be playing at three shows in North India this month. We have not played in North India in a while. We have performances in Delhi, Chandigarh, and Jaipur. Tours are still being planned out.
Kartik: How do you like performing in the North Indian states?
Ashwin: There is no barrier such as North Indian states. We love performing everywhere. People accept our music, they come and dance, they have a happy time, we have a happy time. Everybody has their own share of happiness, and we just enjoy that whole ground of people singing and dancing. There is no differentiation as such.
Achyuth: For us, we are equally happy when we are playing in any part of the country. Anybody who loves music is loved by us.
Kartik: Now that you have a huge following as a band, where do you see yourself in another five years?
Achyuth: Hopefully playing outside India as well, I don't know.
Ashwin: To be honest, would love to win a Grammy, but that might be too much to ask for. We would love to play at international festivals, that would be great.
Achyuth: Yes, spreading our vibe, now that we have reached many people in the country, and making difference in whatsoever way we can in the larger community.
Kartik: Will we be seeing you anytime soon in some University of Delhi fest?
Achyuth: You should be telling us! (laughs)
Kartik: We would love to have you!
Ashwin: Oh, we would love to play there, as well! It is very mutual.
Feature Image Credits: When Chai Met Toast via Facebook
Kartik Chauhan
[email protected]